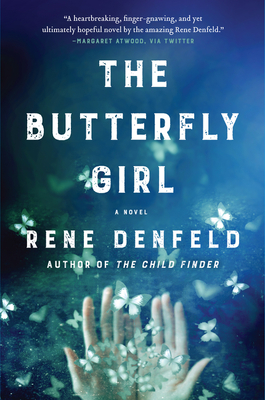 The Butterfly Girl: A Novel
Publication Date:
August 4th, 2020
Publisher:
Harper Perennial
Righton Books
On hand, as of Mar 26 6:51pm
(Mystery/Thrillers )
On Our Shelves Now
Rene Denfeld has done it again: written a mystery that sucks you in and thoroughly absorbs you until you're done. We pick up the story with Naomi Cottle, who has been searching for the sister she left behind when she escaped the clutches of their childhood kidnapper. Haunted by guilt, her search leads her back to her hometown, where a number of young girls have been murdered. By chance or by fate, she encounters Celia, a 12-year-old girl living on the streets who may be the key to everything—including finding her sister and a rapacious killer. Heart-wrenching, thought-provoking, and utterly unputdownable, this really should be the gold standard for mysteries.
October 2019 Indie Next List
Description
"A heartbreaking, finger-gnawing, and yet ultimately hopeful novel by the amazing Rene Denfeld." —Margaret Atwood, via Twitter
After captivating readers in The Child Finder, Naomi—the investigator with an uncanny ability for finding missing children—returns, trading snow-covered woods for dark, gritty streets on the search for her missing sister in a city where young, homeless girls have been going missing and turning up dead.
From the highly praised author of The Child Finder and The Enchanted comes The Butterfly Girl, a riveting novel that ripples with truth, exploring the depths of love and sacrifice in the face of a past that cannot be left dead and buried. A year ago, Naomi, the investigator with an uncanny ability for finding missing children, made a promise that she would not take another case until she finds the younger sister who has been missing for years. Naomi has no picture, not even a name. All she has is a vague memory of a strawberry field at night, black dirt under her bare feet as she ran for her life.
The search takes her to Portland, Oregon, where scores of homeless children wander the streets like ghosts, searching for money, food, and companionship. The sharp-eyed investigator soon discovers that young girls have been going missing for months, many later found in the dirty waters of the river. Though she does not want to get involved, Naomi is unable to resist the pull of children in need—and the fear she sees in the eyes of a twelve-year old girl named Celia. Running from an abusive stepfather and an addict mother, Celia has nothing but hope in the butterflies—her guides and guardians on the dangerous streets. She sees them all around her, tiny iridescent wisps of hope that soften the edges of this hard world and illuminate a cherished memory from her childhood—the Butterfly Museum, a place where everything is safe and nothing can hurt her.
As danger creeps closer, Naomi and Celia find echoes of themselves in one another, forcing them each to consider the question: Can you still be lost even when you've been found? But will they find the answer too late?
Praise for The Butterfly Girl: A Novel
&#8220A heartbreaking, finger-gnawing, and yet ultimately hopeful novel by the amazing Rene Denfeld.&#8221 — Margaret Atwood, via Twitter
&#8220Denfeld summons the lives of abandoned girls in frank, matter-of-fact detail, never glossing over the filth or violence or the myriad ways in which society lets them down. But ultimately The Butterfly Girl is a crime novel with a murderer on the loose. In the final pages, Denfeld speeds up the narrative, creating a propulsive denouement.&#8221 — New York Times
"Denfeld reminds us that storytelling remains one of the most powerful means we have of confronting our darkest human impulses, and sometimes overcoming them." — Washington Post
In the hands of Denfeld, The Butterfly Girl is a crime thriller built upon redemption. A survivor of trauma who was herself homeless as a young girl in Portland, Ore., Denfeld knows the harsh truths of her book's world. . . . Amid a steady supply of darkness, The Butterfly Girl still has room for light. — Los Angeles Times
"Denfeld tells her twinned stories with a remarkable sense of calm and forbearance in prose that is close to lyrical." — Toronto Star
"[M]arvelously done, and Denfeld's characters . . .  are human in the best sense of the word — humorous, loving, scared and easily rooted for." — Datebook
"Equal parts chilling, tragic and hopeful, Rene Denfeld's new novel combines her haunting, lyrical prose with a page-turning and harrowing mystery, putting The Butterfly Girl into a league of its own. Fans of The Child Finder will devour this." — Mary Kubica, New York Times Bestselling Author of The Good Girl
&#8220The Butterfly Girl is a beautiful and very moving novel about lost souls. This heart-stopping thriller left me breathless.&#8221 — Shari Lapena, bestselling author of The Couple Next Door