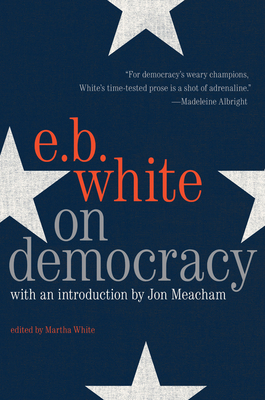 On Democracy
Publication Date:
June 30th, 2020
Publisher:
Harper Perennial
Description
A New York Times Book Review New & Noteworthy Title
"For democracy's weary champions, White's time-tested prose is a shot of adrenaline" (Madeleine Albright).
"I am a member of a party of one, and I live in an age of fear."
These words were written by E. B. White in 1947.
Decades before our current political turmoil, White crafted eloquent yet practical political statements that continue to resonate. "There's only one kind of press that's any good—" he proclaimed, "a press free from any taint of the government." He condemned the trend of defamation, arguing that "in doubtful, doubting days, national morality tends to slip and slide toward a condition in which the test of a man's honor is his zeal for discovering dishonor in others." And on the spread of fascism he lamented, "fascism enjoys at the moment an almost perfect climate for growth—a world of fear and hunger."
Anchored by an introduction by Pulitzer Prize-winning historian Jon Meacham, this concise collection of essays, letters, and poems from one of this country's most eminent literary voices offers much-needed historical context for our current state of the nation—and hope for the future of our society. Speaking to Americans at a time of uncertainty, when democracy itself has come under threat, he reminds us, "As long as there is one upright man, as long as there is one compassionate woman . . . the scene is not desolate."
Praise for On Democracy
&#8220For democracy's weary champions, White's time-tested prose is a shot of adrenaline.&#8221 — Madeleine Albright
"The essayist and children's book author White (best known for "Charlotte's Web") also thought eloquently about democracy and its demands, as this anthology shows." — New York Times Book Review
"These pieces hold up well…The best thing about White's essays on democracy, though, is the author's simple honesty." — Wall Street Journal
"[White's essays] endure as exemplars of the form. White was a master of conversational prose, excelling at sentences that seem perfectly balanced. To read his work is to feel balanced too." — Christian Science Monitor
"Admirers of White, as well as students of democracy, will find a wide range of riches within these pages." — Columbus Dispatch
"This America: The Case for the Nation by historian and New Yorker writer Jill Lepore is a repudiation of the nationalism — white and otherwise — that has raised its ugly head in recent years. On Democracy, by the great E.B. White, can be read almost as a companion volume even though it came out in 1947." — Pittsburgh Post-Gazette
"Some of the finest examples of contemporary, genuinely American prose. White's style incorporates eloquence without affection, profundity without pomposity, and wit without frivolity or hostility. Like his predecessors Thoreau and Twain, White's creative, humane, and graceful perceptions are an education for the sensibilities." — Washington Post on Essays of E.B. White
"[E. B. White] had a knack for describing in the plainest detail what it meant to be alive... We all know White for the light his approach threw upon the animal kingdom. As these letters prove, he extended that grace to humans, too." — Atlanta Journal-Constitution on Letters of E.B. White
"[E. B. White] had a knack for describing in the plainest detail what it meant to be alive... We all know White for the light his approach threw upon the animal kingdom. As these letters prove, he extended that grace to humans, too." — Philadelphia Inquirer on Letters of E.B. White
"Anything written by E.B. White must be cherished by writers and readers." — New York Times on Writings from The New Yorker 1925-1976
"[E. B. White's] essays, his letters, his quips and his squibs are simply beautiful... The essays show him to have an eloquent and lifelong devotion for freedoms, the letters an eloquent and lifelong devotion to friends." — Louisville Courier Journal on Letters of E.B. White
"My heart is at his feet. Time spent in his company—for that is what reading his letters is—will improve anyone's view of the universe." — Washington Star on Letters of E.B. White