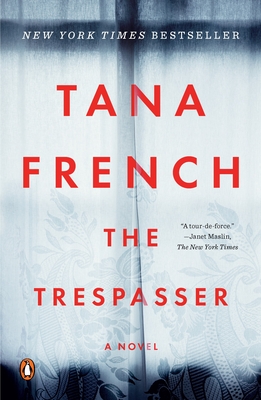 The Trespasser: A Novel (Dublin Murder Squad #6)
Publication Date:
August 8th, 2017
Righton Books
On hand, as of Feb 3 12:51am
(Mystery/Thrillers )
On Our Shelves Now
While French's mysteries stand alone, a minor character from the previous book always becomes the main character in the next one. In this case, it is Antoinette Conway, the lone female detective in the 'Boys Club' that is the Murder Squad of the Dublin Police Department. Antoinette is desperate to get ahead in her career as well as fit in with her colleagues, but it is not going well. She is partnered with Stephen Moran, a young and inexperienced detective, and assigned nothing but domestic disturbance cases. The latest one appears to be no different: Aislinn Murray is found murdered in her flat with the table set for dinner, but there is no sign of anyone else on the scene. Is this a romantic evening that took an ugly turn, or is there something more sinister afoot?
October 2016 Indie Next List
Description
The bestselling novel by Tana French, author of the forthcoming novel The Searcher, is "required reading for anyone who appreciates tough, unflinching intelligence and ingenious plotting" (The New York Times). She "inspires cultic devotion in readers" (The New Yorker) and is "the most important crime novelist to emerge in the past 10 years" (The Washington Post).
"Atmospheric and unputdownable." —People 

In bestselling author Tana French's newest "tour de force" (The New York Times), being on the Murder Squad is nothing like Detective Antoinette Conway dreamed it would be. Her partner, Stephen Moran, is the only person who seems glad she's there. The rest of her working life is a stream of thankless cases, vicious pranks, and harassment. Antoinette is savagely tough, but she's getting close to the breaking point. 
 
Their new case looks like yet another by-the-numbers lovers' quarrel gone bad. Aislinn Murray is blond, pretty, groomed-to-a-shine, and dead in her catalog-perfect living room, next to a table set for a romantic dinner. There's nothing unusual about her—except that Antoinette's seen her somewhere before.
 
And that her death won't stay in its neat by-numbers box. Other detectives are trying to push Antoinette and Steve into arresting Aislinn's boyfriend, fast. There's a shadowy figure at the end of Antoinette's road. Aislinn's friend is hinting that she knew Aislinn was in danger. And everything they find out about Aislinn takes her further from the glossy, passive doll she seemed to be.
 
Antoinette knows the harassment has turned her paranoid, but she can't tell just how far gone she is. Is this case another step in the campaign to force her off the squad, or are there darker currents flowing beneath its polished surface?
Praise for The Trespasser: A Novel (Dublin Murder Squad #6)
"A tour de force . . . When you read Ms. French—and she has become required reading for anyone who appreciates tough, unflinching intelligence and ingenious plotting—make only one assumption: All of your initial assumptions are wrong."
—Janet Maslin, The New York Times
 
"Tana French is the most interesting, most important crime novelist to emerge in the past 10 years."
—The Washington Post
"[Tana French] inspires cultic devotion in readers…most crime fiction is diverting; French's is consuming."
—The New Yorker
"Atmospheric and unputdownable." 
—People 

"Thrilling."
—Buzzfeed
 
"A fierce examination of the chasm between how women choose to present themselves before the world and the more complicated truth underneath--and not to mention a total page-turner."
—Harper's Bazaar
"Beautifully crafted . . . may be her best yet." 
—Entertainment Weekly

"This is the kind of book you'll want to dig into with all the lights on."
—Cup of Jo
 
"There's nothing standard about French's approach to crime fiction, which plays the form much like a jazz musician improvising on a standard. Even when the outlines of the mystery seem familiar…she finds a way to get at enriching themes and powerful emotional truths in fresh and surprising ways."
—Chicago Tribune
 
"As in all of the author's work, meaning lurks beneath every quip and glance. French not only spins a twisty cop tale, she also encases it in meticulous prose, creating a read that is as elegant as it is dark."
—Associated Press

Praise for Tana French
"To say Tana French is one of the great thriller writers is really too limiting. Rather she's simply this: a truly great writer."­ 
—Gillian Flynn
 
"Terrific—terrifying, amazing, and the prose is incandescent."
—Stephen King
 
"French is a poet of mood and a master builder of plots."
­—Maureen Corrigan, The Washington Post
 
"One of the most distinct and exciting new voices in crime writing." 
—The Wall Street Journal