Staff Pick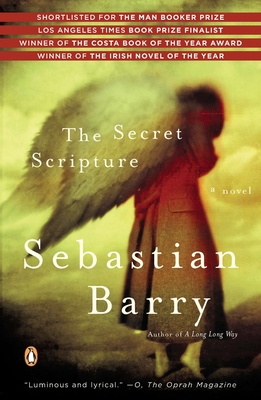 The Secret Scripture: A Novel
Publication Date:
April 28th, 2009
Righton Books
On hand, as of Mar 26 6:51pm
(Fiction )
On Our Shelves Now
This is a haunting story of memory and how seemingly small decisions can have large consequences. As 100-year-old Roseanne, a patient in a mental institution, tries to reconstruct her life, she realizes that memory is not always reliable, and that truth may not be attainable. In addition to offering readers characters with grace and writing that is mesmerizing, The Secret Scripture invites discussions about what 'truth' is and how cultural circumstances and individual choices define a life.
Fall '09/Winter '10 Reading Group List
Barry's novel of Roseanne McNulty, now in her hundredth year in an Irish mental hospital, is a haunting story of memory and how small decisions can have large consequences. The writing was such a treat that I actually got to the last page late one night and saved it until the next morning. I didn't want to read it until I was fully awake and could relish the end.
July 2008 Indie Next List
Description
Now a major motion picture starring Rooney Mara
An epic story of family, love, and unavoidable tragedy from the two-time Booker Prize finalist and author of Old God's Time
Sebastian Barry's novels have been hugely admired by readers and critics, and in 2005 his novel A Long Long Way was shortlisted for the Man Booker Prize. In The Secret Scripture, Barry revisits County Sligo, Ireland, the setting for his previous three books, to tell the unforgettable story of Roseanne McNulty. Once one of the most beguiling women in Sligo, she is now a resident of Roscommon Regional Mental Hospital and nearing her hundredth year. Set against an Ireland besieged by conflict, The Secret Scripture is an engrossing tale of one woman's life, and a poignant story of the cruelties of civil war and corrupted power. The Secret Scripture is now a film starring Rooney Mara, Eric Bana, and Vanessa Redgrave.
Praise for The Secret Scripture: A Novel
"[Barry writes] in language of surpassing beauty. . . . It is like a song, with all the pulse of the Irish language, a song sung liltingly and plaintively from the top of Ben Bulben into the airy night." —Dinitia Smith, The New York Times
"Barry recounts all this in prose of often startling beauty. Just as he describes people stopping in the street to look at Roseanne, so I often found myself stopping to look at the sentences he gave her, wanting to pause and copy them down." —Margot Livesey, The Boston Globe
"Luminous and lyrical."—O, The Oprah Magazine
"A great novel about a ninety-nine-year-old woman...trying to understand the truth of her life...Along the way are some of the most beautifully formed prose passages I have ever read." —Thomas Cahill, author of How the Irish Saved Civilization 
"Written in captivating, lyrical prose, Barry's novel is both a sparkling literary puzzle and a stark cautionary tale of corrupted power." —Publishers Weekly
"Part of Barry's artistry is the sheer poetry of his prose, now heart-stoppingly lyrical, now heart-poundingly thrilling. An unforgettable portrait of mid-twentieth-century Ireland." —Booklist
"It is a poignant story of the horrors and hypocrisies of rural Ireland, the cruelties of civil war, and the pernicious influence of the priesthood. Roseanne is a vivid and engaging protagonist, and Barry makes rich use of the circumlocutions of his native tongue." —The Daily Mail (London)
"Dark, awkward, and exceptionally finely written."—The Telegraph (London)
"In this book, the worlds each character builds are significantly, tantalizingly estranged from each other. The novel's delight lies in the way in which the two tales—and, eventually the two lives—begin to coalesce, to the utter surprise of both the characters and the reader."
—The Economist