Staff Pick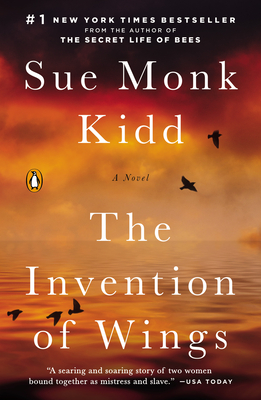 The Invention of Wings: A Novel
Publication Date:
May 5th, 2015
Righton Books
On hand, as of Feb 2 3:51am
(Fiction )
On Our Shelves Now
Kidd gives us an outstanding view into the lives of two women whose reaction to slavery is the same - it must not continue. Loosely based on real-life abolitionist and women's rights activist Sarah Grimke, The Invention of Wings reveals how an intelligent woman of privilege was just as much a prisoner of her times as the slave girl, Hetty, who was given to Sarah as a birthday gift when she was 11 years old. Kidd juxtaposes the lives of these two women to show how each became an activist and how they eventually helped each other escape the claws of the South that wanted to destroy them. This is a splendid tale that will reaffirm the injustices of slavery and will open some eyes to how women were treated in the 1800s. As always, Kidd offers rich, well-developed characters that readers think about long after the book is closed.
January 2014 Indie Next List
Description
From the celebrated author of The Secret Life of Bees and the forthcoming novel The Book of Longings, a novel about two unforgettable American women.
Writing at the height of her narrative and imaginative gifts, Sue Monk Kidd presents a masterpiece of hope, daring, the quest for freedom, and the desire to have a voice in the world.
Hetty "Handful" Grimke, an urban slave in early nineteenth century Charleston, yearns for life beyond the suffocating walls that enclose her within the wealthy Grimke household. The Grimke's daughter, Sarah, has known from an early age she is meant to do something large in the world, but she is hemmed in by the limits imposed on women.
Kidd's sweeping novel is set in motion on Sarah's eleventh birthday, when she is given ownership of ten year old Handful, who is to be her handmaid. We follow their remarkable journeys over the next thirty five years, as both strive for a life of their own, dramatically shaping each other's destinies and forming a complex relationship marked by guilt, defiance, estrangement and the uneasy ways of love.
As the stories build to a riveting climax, Handful will endure loss and sorrow, finding courage and a sense of self in the process. Sarah will experience crushed hopes, betrayal, unrequited love, and ostracism before leaving Charleston to find her place alongside her fearless younger sister, Angelina, as one of the early pioneers in the abolition and women's rights movements.
Inspired by the historical figure of Sarah Grimke, Kidd goes beyond the record to flesh out the rich interior lives of all of her characters, both real and invented, including Handful's cunning mother, Charlotte, who courts danger in her search for something better.
This exquisitely written novel is a triumph of storytelling that looks with unswerving eyes at a devastating wound in American history, through women whose struggles for liberation, empowerment, and expression will leave no reader unmoved.
Praise for The Invention of Wings: A Novel
Praise for The Invention of Wings
 
"A remarkable novel that heightened my sense of what it meant to be a woman – slave or free . .  a conversation changer." – Oprah Winfrey, O, The Oprah Magazine
 
"Exhilarating. . .powerful. . .By humanizing these formidable women, The Invention of Wings furthers our essential understanding of what has happened among us as Americans – and why it still matters." – The Washington Post
 
"A textured masterpiece, quietly yet powerfully poking our consciences and our consciousness . . . leaves us feeling uplifted and hopeful." – NPR
 
"A searing and soaring story of two women bound together as mistress and slave." – USA Today
 
"Kidd has managed to avoid both condescension and cliché, creating an unforgettable character in the slave Handful, the emotional core of her utterly engaging third novel." – The Boston Globe  
                                                                                             
"If this isn't an American classic-to-be, I don't know what is. . .this book is as close to perfect as any I've ever read." – The Dallas Morning News
                                                                               
"A powerful story of rebellion and heroism. . .The remarkable courage and hope found in The Invention of Wings is a reminder that we all have those wings – and tells us a lot more about how we got them." – The Atlanta Journal-Constitution
                                                                              
"Kidd has done a marvelous job of capturing two special and vibrant voices. . . I can't recall reading a book about slavery that presented in such vivid and heartbreaking detail just what the daily life and labor felt like." – The Minneapolis Star Tribune
                                                                      
"A total revelation. . .the book is balanced by two extraordinary women:  real-life abolitionist and feminist Sarah Grimké and the imagined handmaiden Handful, who nearly leaps off every page." – Patrick Bass, Essence