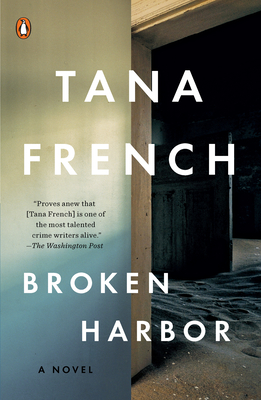 Broken Harbor: A Novel (Dublin Murder Squad #4)
Publication Date:
April 30th, 2013
I keep wondering how long Tana French will be able to keep up the quality of her mesmerizing Dublin detective series, but they just keep getting better! In Broken Harbor, Mick 'Scorcher' Kennedy, the hardline murder detective who made his first appearance in Faithful Place, takes the starring role. A father and his two children are murdered and their mother is in the hospital, gravely injured. What happened in their almost abandoned luxury housing development? Ghosts of both the present and the past haunt the investigation in this atmospheric procedural.
August 2012 Indie Next List
Description
From Tana French, author of the forthcoming novel The Searcher, a New York Times bestselling novel that "proves anew that [Tana French] is one of the most talented crime writers alive" (The Washington Post). 
"Required reading for anyone who appreciates tough, unflinching intelligence and ingenious plotting." —The New York Times

Mick "Scorcherˮ Kennedy is the star of the Dublin Murder Squad. He plays by the books and plays hard, and that's how the biggest case of the year ends up in his hands. 
On one of the half-abandoned "luxuryˮ developments that litter Ireland, Patrick Spain and his two young children have been murdered. His wife, Jenny, is in intensive care. At first, Scorcher thinks it's going to be an easy solve, but too many small things can't be explained: the half-dozen baby monitors pointed at holes smashed in the Spains' walls, the files erased from the family's computer, the story Jenny told her sister about a shadowy intruder slipping past the house's locks. And this neighborhood—once called Broken Harbor—holds memories for Scorcher and his troubled sister, Dina: childhood memories that Scorcher thought he had tightly under control. 
Praise for Broken Harbor: A Novel (Dublin Murder Squad #4)
"I've been enthusiastically telling everyone who will listen to read Tana French. She is, without a doubt, my favorite new mystery writer. Her novels are poignant, compelling, beautifully written, and wonderfully atmospheric. Just start reading the first page. You'll see what I mean."
—Harlan Coben, New York Times bestselling author

"Broken Harbor proves anew that [Tana French] is one of the most talented crime writers alive."
—The Washington Post

"Ms. French has come to be regarded as one of the most distinct and exciting new voices in crime writing. She constructs her plots in a dreamlike, meandering fashion that seems at odds with genre's fixed narrative conventions...Ms. French undercuts expectations at every turn. The victims begin to look less like victims; the case starts to unravel and the lead detective makes compromises that could ruin him."
--The Wall Street Journal
"Ms. French creates haunting, damaged characters who have been hit hard by some cataclysm...This may sound like a routine police procedural. But like Gillian Flynn's Gone Girl, this summer's other dagger-sharp display of mind games, Broken Harbor is something more... she has irresistibly sly ways of toying with readers' expectations"
--Janet Maslin, The New York Times
 
"So much of the pleasure inherent in reading these novels is in trying to figure out where things are going and being constantly surprised, not to mention thoroughly spooked. I predict Broken Harbor will be on more than one Best of 2012 list—it's definitely at the top of mine."
--Associated Press
"a tour de force."
--Laura Miller, Salon.com
 
"In most crime novels, cood cops and decent people court tragedy by disobeying the rules of society. But the stories French tells reflect our own savage times: the real trouble starts when you play fair and do exactly as you're told."
--Marilyn Stasio, The New York Times Book Review
 
"French's psychologically rich novels are so much more satisfying than your standard issue police procedural...French brilliantly evokes the isolation of a Gothic landscape out of the Brontes and transposes it to a luxury suburban development gone bust. The cause, of course, is Ireland's economic free fall — the Celtic Tiger turned needy cub — and, like all superior detective fiction, French's novels are as much social criticism as they are whodunit."
–Maureen Corrigan, NPR's Fresh Air
 
"French ...[is] drawn not just to the who but also to the why — those bigger mysteries about the human weaknesses that drive somebody to such inhuman brutality. What really gives Broken Harbor its nerve-rattling force is her exploration of events leading up to the murders, rendered just as vividly as the detectives' scramble to solve them."
--Entertainment Weekly (A- rating)
 
"These four novels have instated Ms. French as one of crime fiction's reigning grand dames — a Celtic tigress... It's not the fashion in literary fiction these days to address such things as the psychological devastation that a fallout of the middle class can wreak on those who have never known anything else, and Ms. French does it with aplomb — and a headless sparrow and dozens of infrared baby monitors."
--The Washington Times
 
"Broken Harbour is a novel, of course, but it's also a headline...it's good to see contemporary literature engaging a crisis that has had such an impact on the lives of so many. This is, in fact, what good literature does. It makes us look at our world and perhaps forces us to see what we have chosen to ignore."
--Los Angeles Times