Staff Pick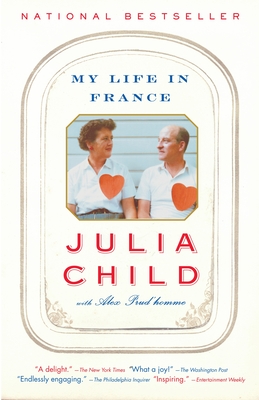 My Life in France
Previous price:

$18.00
Current price:

$17.00
Publication Date:
October 9th, 2007
Julia Child recounts her life in France beginning in 1948, when she arrived with her diplomat husband, Paul. She spoke no French and knew nothing about the people or the culture. The book follows her through classes at the famous cooking school, Le Cordon Bleu, the writing of her critically acclaimed bestselling cookbook, Mastering the Art of French Cooking, and the development of her own cooking school and television programs. Read this book, and I guarantee you'll feel the zest for life that is infectious through Julia Child's wonderful outlook on both life and cooking.
Bunny, Paulina Springs Books, Sisters, OR
Winter 2011 Reading Group List
Description
NATIONAL BESTSELLER • Julia's story of her transformative years in France in her own words is "captivating ... her marvelously distinctive voice is present on every page." (San Francisco Chronicle).

Although she would later singlehandedly create a new approach to American cuisine with her cookbook Mastering the Art of French Cooking and her television show The French Chef, Julia Child was not always a master chef. Indeed, when she first arrived in France in 1948 with her husband, Paul, who was to work for the USIS, she spoke no French and knew nothing about the country itself.
But as she dove into French culture, buying food at local markets and taking classes at the Cordon Bleu, her life changed forever with her newfound passion for cooking and teaching. Julia's unforgettable story—struggles with the head of the Cordon Bleu, rejections from publishers to whom she sent her now-famous cookbook, a wonderful, nearly fifty-year long marriage that took the Childs across the globe—unfolds with the spirit so key to Julia's success as a chef and a writer, brilliantly capturing one of America's most endearing personalities.
About the Author
Julia Child was born in Pasadena, California. She graduated from Smith College and worked for the OSS during World War II; afterward she lived in Paris, studied at the Cordon Bleu, and taught cooking with Simone Beck and Louisette Bertholle, with whom she wrote the first volume of Mastering the Art of French Cooking (1961). In 1963, Boston's WGBH launched The French Chef television series, which made Julia Child a national celebrity, earning her the Peabody Award in 1965 and an Emmy in 1966. Several public television shows and numerous cookbooks followed. She died in 2004.
Alex Prud'homme is Julia Child's great-nephew and the coauthor of her autobiography, My Life in France, which was adapted into the movie Julie & Julia. He is also the author of The Ripple Effect: The Fate of Freshwater in the Twenty-First Century, Hydrofracking: What Everyone Needs to Know, and The Cell Game, and he is the coauthor (with Michael Cherkasky) of Forewarned: Why the Government Is Failing to Protect Us--and What We Must Do to Protect Ourselves. Prud'homme's journalism has appeared in The New York Times, The New Yorker, Vanity Fair, Time, and People.
Praise for My Life in France
"A delight." —The New York Times
"What a joy!" —The Washington Post
"Endlessly engaging." —The Philadelphia Inquirer
"Inspiring." —Entertainment Weekly
"Delighful and ebulliently written. . . . Her joy just about jumps off the books pages." —Christian Science Monitor
"Lively, infectious. . . . Her elegant but unfussy prose pulls the reader into her stories." —Chicago Sun-Times
"Captivating. . . . Her marvelously distinctive voice is present on every page." —San Francisco Chronicle