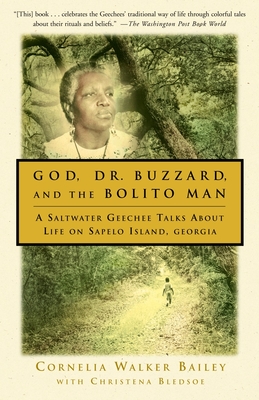 God, Dr. Buzzard, and the Bolito Man: A Saltwater Geechee Talks About Life on Sapelo Island, Georgia
Publication Date:
July 17th, 2001
Ships in 1-3 Days
This item is not currently in stock at the store for pickup but we can order it for you. Please call for details.
Description
Equal parts cultural history and memoir, God, Dr. Buzzard, and the Bolito Man recounts a traditional way of life--that of the Geechee Indians of Sapelo Island-- that is threatened by change, with stories that speak to our deepest notions of family, community, and a connection to one's homeland.
Cornelia Walker Bailey models herself after the African griot, the tribal storytellers who keep the history of their people. Bailey's people are the Geechee, whose cultural identity has been largely preserved due to the relative isolation of Sapelo, a barrier island off the coast of Georgia. In this rich account, Bailey captures the experience of growing up in an island community that counted the spirits of its departed among its members, relied on pride and ingenuity in the face of hardship, and taught her firsthand how best to reap the bounty of the marshes, woods and ocean that surrounded her. The power of this memoir to evoke the life of Sapelo Island is remarkable, and the history it preserves is invaluable.
"A special book that reveals the unconquerable spirit of a people who, though torn from their African homeland, imprinted America with a unique culture that continues to endure." --Ebony
About the Author
Cornelia Walker Bailey's family has lived on Sapelo Island since 1803. She gives tours on Sapelo Island and lectures across the country about Geechee culture.
Christena Bledsoe is a writer and former reporter who lives in Atlanta and Cedar Key, Florida.
Praise for God, Dr. Buzzard, and the Bolito Man: A Saltwater Geechee Talks About Life on Sapelo Island, Georgia
""Delightful…. In writing that is both unadorned and poetic, Bailey's soft, Southern wit shines through."–Publishers Weekly
"A memorable read…. Highly recommended."– Library Journal
"Celebrates the Geechees' traditional way of life through colorful tales about their rituals and beliefs."—The Washington Post Book World