Staff Pick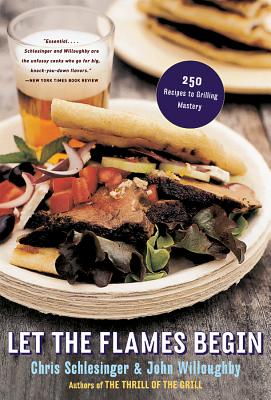 Let the Flames Begin: 250 Recipes to Grilling Mastery
Publication Date:
April 17th, 2005
Publisher:
W. W. Norton & Company
This item is not currently in stock at the store for pickup but we can order it for you. Please call for details.
Description
"Essential... Schlesinger & Willoughby are unfussy cooks who go for big, knock-you-down flavors."—New York Times Book Review
250 spectacular dishes, from starters to desserts and everything in between. You'll find not just recipes but also strategies for grilling ribs and steaks; recipes for whole fish, corn on the cob, and other favorites; hobo packs to roast in the coals while you grill something else above the fire; and uniquely tasty beverages to keep you refreshed while you grill.
About the Author
Chris Schlesinger is the chef/owner of the East Coast Grill in Cambridge, Massachusetts, and the Back Eddy in Westport, Massachusetts.
John Willoughby is the executive editor of Gourmet magazine. He lives in New York City.
Praise for Let the Flames Begin: 250 Recipes to Grilling Mastery
This is a real cookbook, a step or two beyond ordinary grill books.
— Dan's Papers
Let the Flames Begin is chock full of gold-medal recipes. Chris and Doc never cease to amaze me with their exciting flavors and dedication to the grill.
— Bobby Flay, author of Boys Meets Grill and Bobby Flay Cooks American, and host of Food Nation on the Food Network