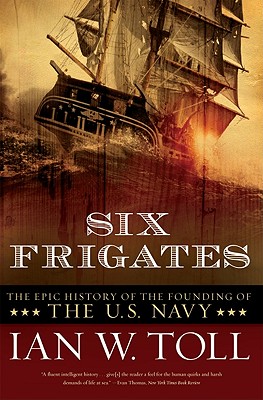 Six Frigates: The Epic History of the Founding of the U.S. Navy
Publication Date:
March 17th, 2008
Publisher:
W. W. Norton & Company
Righton Books
On hand, as of Mar 26 6:51pm
(History )
On Our Shelves Now
Description
"A fluent, intelligent history...give[s] the reader a feel for the human quirks and harsh demands of life at sea."—New York Times Book Review
Before the ink was dry on the U.S. Constitution, the establishment of a permanent military became the most divisive issue facing the new government. The founders—particularly Jefferson, Madison, and Adams—debated fiercely. Would a standing army be the thin end of dictatorship? Would a navy protect from pirates or drain the treasury and provoke hostility? Britain alone had hundreds of powerful warships.
From the decision to build six heavy frigates, through the cliff-hanger campaign against Tripoli, to the war that shook the world in 1812, Ian W. Toll tells this grand tale with the political insight of Founding Brothers and the narrative flair of Patrick O'Brian.
About the Author
Ian W. Toll is the author of the New York Times bestsellers The Conquering Tide, Pacific Crucible, and Six Frigates, winner of the Samuel Eliot Morison Award and the William E. Colby Award. He lives in New York.
Praise for Six Frigates: The Epic History of the Founding of the U.S. Navy
Sweeping in scope, full of vivid descriptions... solidly grounded in the diplomatic landscape... a masterly work.
— Chris Patsilelis - Houston Chronicle
[A] wonderfully atmospheric account, brilliantly researched, full of stirring action and rich with the scent of the sea.
— Simon Winchester, author of The Professor and the Madman
Gripping... a masterful narrative... Toll captures the ambivalence of the government, and its reluctance to pay for even a tiny navy, very well.
— Joe Mysak - Bloomberg News
Toll has a light touch, much like noted historian David McCullough; well-researched facts are carefully balanced by smooth narrative flow.... The result is a thoroughly readable book that adds depth and significance to an important era of American history.
— Bruce Linder - San Diego Tribune
Vibrant and comprehensive, Toll makes an impressive debut.
— Gilbert Taylor - Booklist