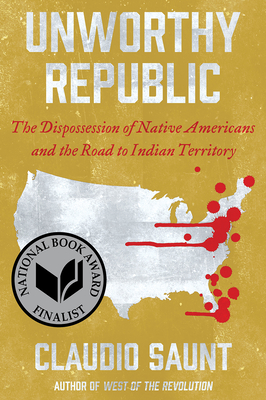 Unworthy Republic: The Dispossession of Native Americans and the Road to Indian Territory
Publication Date:
February 23rd, 2021
Publisher:
W. W. Norton & Company
Righton Books
On hand, as of Nov 27 12:41pm
(History )
On Our Shelves Now
Description
Winner of the 2021 Bancroft Prize and the 2021 Ridenhour Book Prize
Finalist for the 2020 National Book Award for Nonfiction
Named a Top Ten Best Book of 2020 by the Washington Post and Publishers Weekly and a New York Times Critics' Top Book of 2020
A masterful and unsettling history of "Indian Removal," the forced migration of Native Americans across the Mississippi River in the 1830s and the state-sponsored theft of their lands.
In May 1830, the United States launched an unprecedented campaign to expel 80,000 Native Americans from their eastern homelands to territories west of the Mississippi River. In a firestorm of fraud and violence, thousands of Native Americans lost their lives, and thousands more lost their farms and possessions. The operation soon devolved into an unofficial policy of extermination, enabled by US officials, southern planters, and northern speculators. Hailed for its searing insight, Unworthy Republic transforms our understanding of this pivotal period in American history.
Praise for Unworthy Republic: The Dispossession of Native Americans and the Road to Indian Territory
A study in power.… The parallels with the present are eerie.
— David Treuer - Foreign Affairs
Unworthy Republic is a powerful and lucid account.… Saunt has written an unflinching book that reckons with this history and its legacy.
— Jennifer Szalai - New York Times
Claudio Saunt sets a bold, new, and urgently needed standard for the way we should understand the history of Indian Removal.… Sweeping and astute.
— Tiya Miles, professor of history, Harvard University, and author of The Dawn of Detroit
Claudio Saunt has written the definitive history of this widely remembered but seldom understood central episode in American history. In his subtle and exceedingly well documented account, Saunt shows how planters eager for land, southern politicians consolidating their power, and New York bankers launched one of the largest mass deportations in U.S. history. They encountered resourceful Native Americans who deployed all means at their disposal to retain their land. This harrowing account of theft, dispossession, novel bureaucratic capacities, and unimaginable violence drew me in in ways that few history books do. Unworthy Republic will make you think in new ways about the history of the United States and will help you understand the roots of some of today's inequalities. It is one of the most important books published on U.S. history in recent years and should be required reading for all Americans.
— Sven Beckert, Laird Bell Professor of History, Harvard University, author of Empire of Cotton
Claudio Saunt… offers a damning synthesis of the federal betrayals, mass deportations, and exterminatory violence that defined the 1830s.… Lining up his own calculations alongside recent studies of slavery, Saunt casts indigenous expulsion and the domestic slave trade as twinned trails of tears, economic successes rooted in profound moral failures.
— Caitlin Fitz - Atlantic
A major achievement.… [Saunt] manages to do something truly rare: destroy the illusion that history's course is inevitable and recover the reality of the multiple possibilities that confronted contemporaries.
— Nick Romeo - Washington Post
There has been insufficient 'reckoning with the conquest of the continent,' Claudio Saunt relays in this excellent new book. In many accounts of U.S. history, the discussion of the mass deportation of Native nations during the 1830s remains far too brief. Deportation's legacies in law, culture, and community continue to this day and find powerful exploration in this important addition to the field.
— Ned Blackhawk (Western Shoshone), professor of history and American studies, Yale University
A much-needed rendering of a disgraceful episode in American history that has been too long misunderstood.
— Peter Cozzens - Wall Street Journal
Unworthy Republic offers a much-needed corrective to the American canon, showing how a heavy-handed president, a deadlocked Congress, and a lust for profit combined to construct a shameful national legacy.… A riveting story that invites us all to reflect on how we got where we are today.
— Elizabeth Fenn, Distinguished Professor, University of Colorado Boulder, Pulitzer Prize–winning author of Encounters at the Heart of the World
Thoroughly researched and quietly outraged.
— Chris Hewitt - Star Tribune