New Release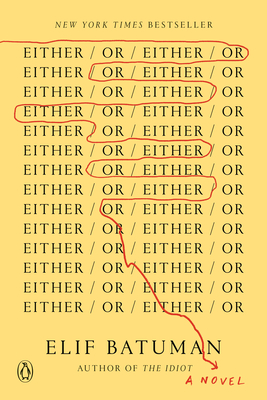 Either/Or: A Novel
Publication Date:
May 23rd, 2023
Righton Books
On hand, as of May 30 10:51pm
(Fiction )
On Our Shelves - Available for Immediate Pickup or Shipping
Description
Selin is the luckiest person in her family: the only one who was born in America and got to go to Harvard. Now it's sophomore year, 1996, and Selin knows she has to make it count. The first order of business: to figure out the meaning of everything that happened over the summer. Why did Selin's elusive crush, Ivan, find her that job in the Hungarian countryside? What was up with all those other people in the Hungarian countryside? Why is Ivan's weird ex-girlfriend now trying to get in touch with Selin?
Guided by her literature syllabus and by her more worldly and confident peers, Selin reaches certain conclusions about the universal importance of parties, alcohol, and sex, and resolves to execute them in practice—no matter what the cost. Next on the list: international travel.
Unfolding with the propulsive logic and intensity of youth, Either/Or is a landmark novel by one of our most brilliant writers. Hilarious, revelatory, and unforgettable, its gripping narrative will confront you with searching questions that persist long after the last page.
Praise for Either/Or: A Novel
One of The New Yorker's Best Books of 2022
"Selin's back for her sophomore year, and I'm happy to report that it's even better. Batuman's masterful at making fun of self-serious academics and, somehow, Selin's become so relatable, she seemed to merge with myself. I can't wait for junior year." —NPR, "Books We Love"
 
"[Either/Or is] more vigorous, and Selin has become a stronger and more definite character. When she chooses to veil her emotions, it is only to make the inevitable unveiling all the more devastating." —Vox
 
"Batuman has produced another page-turning delight, a morsel of Ivy League realism . . . Perhaps Batuman's genius lies in her eagerness to endow the small dramas of campus life with the same importance as the big existential questions." —Harvard Review
"Batuman has a gift for making the universe seem, somehow, like the benevolent and witty literary seminar you wish it were . . . This novel wins you over in a million micro-observations." —Dwight Garner, The New York Times
"What elevates this far above the typical campus novel is Ms. Batuman's wry perspective . . . Selin's observations are frequently hilarious, sometimes touching and always original . . . There's both a sweet innocence and a sophisticated meta aspect to all this, a level on which Either/Or is about how Selin (and her creator) came to create the very book we're reading . . . [A] charming, hyper-literary novel . . . To be continued, we hope." —Heller McAlpin, Wall Street Journal
 
"Stupendous . . . [A] hilarious follow-up to the author's Pulitzer Prize-nominated The Idiot . . . Now a sophomore, Selin joins the literary magazine, attends campus costume parties, and visits a psychiatrist and Pilates classes, set pieces that dazzle with the author's deadpan prose and superpowers of observation. 'I thought humorlessness was the essence of stupidity,' Selin narrates, and by that metric Batuman is a genius, rendering human folly at its most colorful and borderline surreal." —Lauren Mechling, Vogue
"The book gallops along at a brisk pace, rich with cultural touchstones of the time, and one finishes hungry for more . . . Batuman possesses a rare ability to successfully flood the reader with granular facts, emotional vulnerability, dry humor, and a philosophical undercurrent without losing the reader in a sea of noise . . . Selin's existential crisis within the collegiate crucible haunts every thoughtful reader. The novel stands on its own as a rich exploration of life's aesthetic and moral crossroads as a space to linger—not race through. Spare me sanctimonious fictional characters locked in the anguish of their regretful late twenties and early thirties: May our bold heroine Selin return to campus and stir up more drama before departing abroad again." —Lauren LeBlanc, Boston Globe
"I've never read such a precise rendering of the busywork the brain engages in during a questionable dorm-room hookup . . . Either/Or manages to be easy to read while provoking hard thoughts—and its thrillingly sudden ending dismisses the very idea of 'endings.'" —Sarah Chihaya, Vulture
"Elif Batuman brings back the tedium and exhilaration of undergraduate life in Either/Or . . . charming, mordantly funny.'" —Ann Levin, Associated Press
   
"Over the course of Either/Or, one actually witnesses a mind blooming, though not without misstep. Selin is funny, curious, and charming, though she is often oblivious to people's feelings, including her own. She is ambitious yet directionless; impulsive and incautious, yet prone to overanalysis. The result is one of the most fully realized characters I have encountered in fiction, dazzling in her flaws and contractions." —Halimah Marcus, Electric Literature
 
"The novel has the same wry tone—with Selin as a conduit for Batuman's brilliant, funny observations—but it is characterized by a shift: Selin is ready to stop thinking about living and start doing it." —Sophie Haigney, The New Republic  
"A richly suggestive and amusing book." —Financial Times
 
"In Elif Batuman's second novel, a piquant sequel to her 2017 Pulitzer Prize-nominated debut novel The Idiot, protagonist Selin Karadag, a relentlessly curious Harvard student, ponders the value of love and lust as she mines her life for her burgeoning, semi-autobiographical creative writing. Drawing its title from Kierkegaard's seminal work, with which Selin is obsessed, the narrative is a hyper-cerebral romp that is as brainy as it is charming." —TIME, "27 New Books You Need to Read This Summer"
"A mordantly witty continuation of first-gen Harvard student Selin and her mid-'90s misadventures in sex, self-actualization, and studying abroad." —Entertainment Weekly, "16 Novels We're Excited for This Summer"
"Elif Batuman's Either/Or is a delightful invitation to reunite with Selin . . . Our present moment will change, and technology will continue to evolve, but undoubtedly Selin's voice will remain a gem." —BookPage
"The joys of Batuman's fiction lie . . . in Selin herself—her lively voice, her comic observations, and her marriage of literature and philosophy with the potentially oppressive banality of undergraduate life." —Claire Messud, Harper's
"This winning follow-up to The Idiot, Batuman's virtuoso debut novel, reunites us with Selin, her bold, brainy protagonist . . . From its S&M-themed dorm parties to its messy email love triangles, Either/Or is a witty, bighearted triumph about its unforgettable heroine's journey of becoming." —Esquire, "The Best Books of Spring 2022"
"If The Idiot was a tale of innocence, Either/Or is a chronicle of experience that will leave Batuman's fans clamoring for an account of Selin's junior year." —Minneapolis Star Tribune
"Selin, the magnetic protagonist in Batuman's brilliant and comedic first novel, The Idiot (2017), returns . . . Month by month, Batuman's brainy, attentive, outspoken narrator grapples with the absurd (literary pretension, academics, sex) and the sublime (literature, music, sex) . . . Through it all, valiant Selin reads and ponders the human condition, culminating in a breath-catching ending that will leave spellbound readers hoping for more from Batuman's bright and witty adventurer of conscience." —Booklist (starred review)
"Selin is a disarming narrator, tossing off insights that are revelatory, moving, and laugh-out-loud funny—sometimes all at once—and it's exciting to watch her become the author of her own story. Another delightfully cerebral and bighearted novel from a distinctive voice in contemporary fiction." —Kirkus (starred review)
"Effervescent . . . Observant, defiant, and newly on antidepressants, Selin approaches the mystery of human relations with a beginner's naivete and sharp intelligence . . .  Batuman's light touch and humor are brought to bear on serious questions . . . As accomplished as The Idiot was, this improves upon it, and Batuman's already sharp chops as a novelist come across as even more refined in these pages. Readers will be enraptured." —Publishers Weekly (starred review)
"In 2018, Elif Batuman's witty campus novel, The Idiot, was a finalist for a Pulitzer Prize. . . . Now, Batuman returns with a sequel, Either/Or, that picks up during Selin's just-as-messy sophomore year. Expect a master course in snappy social observation." —TIME, "The 21 Most Anticipated Books of 2022"
 
"It's the fall of 1996, and Harvard sophomore Selin puzzles over last summer's adventures in Hungary: the tug of attraction, the allure of canonical literature, and the what-just-happened mysteries of youth. The pencil line between fantasy and reality blurs as she decides to go back through the looking glass in search of herself. Batuman, a Pulitzer Prize finalist and New Yorker writer, brings delicious detail and light irony to her heroine's quest." —Oprah Daily, "The 50 Most Anticipated Books of 2022"
 
"Elif Batuman's debut novel, The Idiot, is one of the best works of fiction published in the 21st century. Her new novel, Either/Or, picks up where The Idiot left off. . . . Batuman has an extremely keen sense for what makes characters engaging and renders it all in supernaturally observant and funny prose." —AV Club, "The 15 most-anticipated books of 2022"
 
"[A] much-anticipated sequel. Either/Or takes places in 1996 and follows Selin throughout her sophomore year as she attempts to make sense of everything that happened the summer before." —Nylon, "24 Books We're Looking Forward to in 2022" 
"Literary novels so rarely get sequels, in the strictest sense, but this year they're out in force. Batuman's latest picks up where her deeply enjoyable 2017 novel The Idiot left off, with Selin now a sophomore at Harvard, trying to untangle all that has happened, and all that could. Besides, Kierkegaard/Elliott Smith vibes will always bring me to the table." —LitHub, "Most Anticipated Books of 2022"