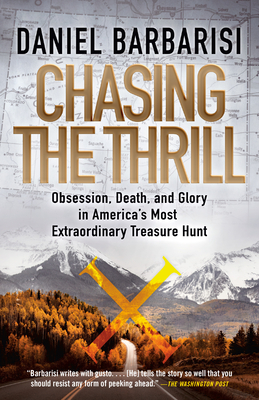 Chasing the Thrill: Obsession, Death, and Glory in America's Most Extraordinary Treasure Hunt
Publication Date:
May 24th, 2022
Righton Books
On hand, as of Sep 22 10:51pm
(Travel )
On Our Shelves - Available for Immediate Pickup or Shipping
Description
"Daniel Barbarisi plunges into an adventure from another era when he goes in search of buried treasure, guided only by a cryptic poem, a mischievous art collector, and the footsteps another pursuer who died on the quest… Every page draws you deeper into this no-man's-land where fortune—or tragedy—awaits." —Christopher McDougall, author of Born to Run

When Forrest Fenn was given a fatal cancer diagnosis, he came up with a bold plan: He would hide a chest full of jewels and gold in the wilderness, and publish a poem that would serve as a map leading to the treasure's secret location. But he didn't die, and after hiding the treasure in 2010, Fenn instead presided over a decade-long gold rush that saw many thousands of treasure hunters scrambling across the Rocky Mountains in pursuit of his fortune. 
 
Daniel Barbarisi first learned of Fenn's hunt in 2017, when a friend became consumed with decoding the poem and convinced Barbarisi, a reporter, to document his search. What began as an attempt to capture the inner workings of Fenn's hunt quickly turned into a personal quest that led Barbarisi down a reckless and potentially dangerous path, one that found him embroiled in searcher conspiracies and matching wits with Fenn himself. Over the course of four chaotic years, several searchers would die, endless controversies would erupt, and one hunter would ultimately find the chest. 
But the mystery didn't end there.
 
Full of intrigue, danger, and break-neck action, Chasing the Thrill is a riveting tale of desire, obsession, and unbridled adventure.
Praise for Chasing the Thrill: Obsession, Death, and Glory in America's Most Extraordinary Treasure Hunt
"Rousing . . . Barbarisi writes with gusto and portrays the eccentrics he encounters with a candor . . . He can also make a landscape come alive. I've read many descriptions of Yellowstone geysers, but none more striking than his evocation of how runoff from the Artemisia Geyser affects the immediate surroundings . . . Barbarisi tells the story so well that you should resist any form of peeking ahead and leave the matter in his capable hands."
—Dennis Drabelle, The Washington Post
"The idea of a years-long quest throughout the Rocky Mountains in search of treasure represents competition of a different, fascinating sort. Barbarisi's exploration of the who and how and why of those who hunted for the hidden treasure left by Forrest Fenn confronts fascinating questions about the sometimes indistinct realms of adventure and obsession."
—The Boston Globe, "Summer Reading 2021"
"Chasing the Thrill leads the reader on an engaging armchair treasure hunt, a welcome escape in these waning days of covid. Daniel Barbarisi's bold gamble — inserting himself at the story's center — pays off. The writer emerges as a sympathetic protagonist, and his participation buys him entrée into a secretive and mistrustful club. By the final chapters of Chasing the Thrill, we share his wonder in watching the Fenn saga draw to an exhilarating close."
—Daniel de Visé, Washington Independent Review of Books
"Engaging . . . [Barbarisi] smartly shows how easy it is to get caught up in gold fever. The more he follows the hunt, the more he's consumed by it. As a result, the reader also wants resolution on what searchers call the 'solve.'"
—Jeff Schulze, Fredericksburg Free Lance Star
"Chasing the Thrill lives where all the best stories reside, on that thin edge between amazing and impossible. Daniel Barbarisi plunges into an adventure from another era when he goes in search of buried treasure, guided only by a cryptic poem, a mischievous art collector, and the footsteps another pursuer who died on the quest. Thanks to Barbarisi's skill, every page draws you deeper into this no-man's-land where fortune—or tragedy—awaits."
—Christopher McDougall, author of Born to Run

"Chasing the Thrill swept me up from the start and pulled me into a treasure hunt of surprising strangeness and danger—all true!—written with an intoxicating mix of clear-eyed journalism and down-the-rabbit-hole obsession, a riptide of a book right to the unexpected event at the end. What more is there to want?"
—Michael Finkel, author of The Stranger in the Woods

"Chasing the Thrill is a fantastic tale made of all the best ingredients: adventure, obsession, compulsion, extreme characters, high stakes, big wilderness, and at its center: the race to find an elusive hidden treasure. Dan Barbarisi tells this story from the inside, as a participant swept up in a zany mystery. I devoured this book in one sitting."
—Susan Casey, author of Voices in the Ocean
"This tale of the most consuming treasure hunt in modern American history, and of the man who created it, is utterly captivating and thoroughly entertaining. Daniel Barbarisi gives the reader a satisfying sense of how deeply being part of a treasure hunt—beginning with believing that there is a treasure to hunt—summons the human spirit back to a faith most adults lost in childhood. At the same time, he reminds us just how close that faith is to madness."
—Randall Sullivan, author of The Curse of Oak Island
"Dan Barbarisi has done a startling bit of metaphysical gymnastics here. This is a story that pretends to be about one group of people looking for one small hidden box of treasure when in actuality it's about every human being who has ever yearned, obsessed, believed, wanted or desired. It is at its core a profile of hope itself, which makes it, oddly enough, a book about the meaning of life."  
—Wright Thompson, author of Pappyland: A Story of Family, Fine Bourbon, and the Things That Last

"Daniel Barbarisi's Chasing the Thrill is a fast-paced testament to the extraordinary lengths some go for glory and adventure alike. In Barbarisi's hands, you feel you are really hunting for treasure—hiking treacherous landscapes, decoding lines, moving deeper into the unknown—and come to understand how modern myths are born and take on a life of their own. This is a one-of-a-kind, brilliantly reported story about risking one's life and livelihood to chase a dream, and the ways destiny and desire are two sides of the same golden coin." 
—Kirk Wallace Johnson, author of The Feather Thief

"Captivating . . . Shot through with dramatic plot twists, colorful personalities, and insights into the nature of obsession, this rollicking account will appeal to fans of The Orchid Thief and Born to Run."
—Publishers Weekly, starred
"Mesmerizing . . . Barbarisi's narrative splendidly captures the timeless allure of buried treasure. Armchair adventurers will be riveted right up to the suspenseful conclusion."
—Booklist
"An engaging adventure story . . . A well-reported insider's study on the engrossing and alarming fervor a search can inspire."
—Kirkus