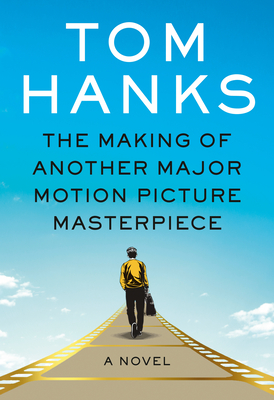 The Making of Another Major Motion Picture Masterpiece: A novel
Publication Date:
May 9th, 2023
Righton Books
On hand, as of May 30 10:51pm
(Fiction-Hardcover )
On Our Shelves - Available for Immediate Pickup or Shipping
Staff Reviews
Who else could have told this entertaining tale of the byzantine process of filmmaking? This book also contains the "source material", a riveting coming-of-age story about California cartoonist (and even contains some of his cartoons, which were also written by Tom Hanks.) Hundreds of people, from dozens of professions, contribute to a film, and many of them are represented in this novel, which also contains amusing and edifying footnotes.
— Anne
A surprisingly entertaining novel from the great actor. Hanks manages to weave together the inside scoop on what really happens on a film set (I can vouch for this having spent many years work on film sets), and a terrific background story on the source for the film. Enormously satisfying. 
— Darryl
Description
NEW YORK TIMES BEST SELLER • From the legendary actor and best-selling author: a novel about the making of a star-studded, multimillion-dollar superhero action film...and the humble comic books that inspired it. Funny, touching, and wonderfully thought-provoking, while also capturing the changes in America and American culture since World War II.
"Wild, ambitious and exceptionally enjoyable." —Matt Haig, best-selling author The Midnight Library, The Humans and Reasons to Stay Alive
Part One of this story takes place in 1947. A troubled soldier, returning from the war, meets his talented five-year-old nephew, leaves an indelible impression, and then disappears for twenty-three years.
Cut to 1970: The nephew, now drawing underground comic books in Oakland, California, reconnects with his uncle and, remembering the comic book he saw when he was five, draws a new version with his uncle as a World War II fighting hero. 
Cut to the present day: A commercially successful director discovers the 1970 comic book and decides to turn it into a contemporary superhero movie.
Cue the cast: We meet the film's extremely difficult male star, his wonderful leading lady, the eccentric writer/director, the producer, the gofer production assistant, and everyone else on both sides of the camera.
Bonus material: Interspersed throughout are three comic books that are featured in the story—all created by Tom Hanks himself—including the comic book that becomes the official tie-in to this novel's "major motion picture masterpiece."
Praise for The Making of Another Major Motion Picture Masterpiece: A novel
"The Making of Another Major Motion Picture Masterpiece is its own universe, complete with a sun, a cast of circling planets, and a limitless number of stars. Its gravity pulls you in and its far reaching, multi-layered, rollicking exuberance holds you in place. I would have been happy to live inside this book forever." —Ann Patchett, best-selling author of These Precious Days
"This is a wild, ambitious and exceptionally enjoyable novel. A story about how stories happen, with a swirling kaleidoscope of characters across the best part of a century, and a real beating emotional heart. It has a lot of astute and fascinating things to say about comic books, movies, show business, America and human beings. I loved every page." —Matt Haig; author The Midnight Library, The Humans and Reasons to Stay Alive
"An extravagant, buoyant, joyfully sprawling book, bursting with affection for its characters, for the intricate lore of the movie business, and for the many ways in which human beings are one another's greatest opportunity." —Tana French, award-winning novelist of In The Woods and The Searcher

"Do you want to go on an adventure? Who doesn't? This was a joy to read in that certain kind of way that only happens when it was a joy to write. Tom Hanks is such a natural storyteller that everything feels like he's telling this story just for you, at a dinner table, and you don't want the night to end." —Fredrik Backman, author of A Man Called Ove
"With a unique insight and a rare eye for detail, Tom Hanks delivers a stunning, emotionally satisfying tale about the art of storytelling. I never wanted the lights to come up. I could not put it down." —Graham Norton
"Vibrant, jazzy, witty, snazzily written, with a great sense of time and place, this novel-cum-comic book is one of those rare, unique, pieces of fiction. Loved it."
—Kate Mosse; author of Labyrinth
"A thoroughly engaging tale....This is a story about what happens behind the cameras. Hanks is at pains to impress upon us that moviemaking is a circuitous process involving a vast network of people — some famous, most not — showing up and doing their best. This is most definitely not a novel about the magic of filmmaking; it's a novel about the hard work of filmmaking.... a love letter to the industry....The longer you watch Hanks create that glittery surface, the harder it is to look away." —Ron Charles, The Washington Post
★ "We all knew he could act, but the publication of Hanks' Uncommon Type, his excellent 2017 short-story collection, proved he could write, too. Now he's followed that with a full-length novel, and it is superb.… The writing is spot-on, bringing to the novel all the passion Hanks feels about his profession: "Making movies is complicated, maddening, highly technical at times, ephemeral and gossamer at others, slow as molasses on a Wednesday but with a gun-to-the-head deadline on a Friday." The whole book is like that: lovingly crafted, a wildly entertaining story beautifully told. If you love movies, you'll love this book." —David Pitt, Booklist (starred review)