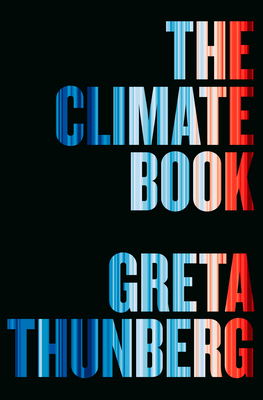 The Climate Book: The Facts and the Solutions
Publication Date:
February 14th, 2023
Righton Books
On hand, as of Sep 27 8:51am
(Science )
On Our Shelves - Available for Immediate Pickup or Shipping
Description
A NEW YORK TIMES BESTSELLER
We still have time to change the world. From climate activist Greta Thunberg, comes the essential handbook for making it happen.
You might think it's an impossible task: secure a safe future for life on Earth, at a scale and speed never seen, against all the odds. There is hope—but only if we listen to the science before it's too late.
In The Climate Book, Greta Thunberg has gathered the wisdom of over one hundred experts—geophysicists, oceanographers and meteorologists; engineers, economists and mathematicians; historians, philosophers and Indigenous leaders—to equip us all with the knowledge we need to combat climate disaster. Throughout, illuminating and often shocking grayscale charts, graphs, diagrams, photographs, and illustrations underscore their research and their arguments. Alongside them, she shares her own stories of demonstrating and uncovering greenwashing around the world, revealing how much we have been kept in the dark. This is one of our biggest challenges, she shows, but also our greatest source of hope. Once we are given the full picture, how can we not act? And if a schoolchild's strike could ignite a global protest, what could we do collectively if we tried?
We are alive at the most decisive time in the history of humanity. Together, we can do the seemingly impossible. But it has to be us, and it has to be now.
Praise for The Climate Book: The Facts and the Solutions
"A remarkable contribution to climate literature—and an urgent must-read." —Los Angeles Review of Books
"Having curated Yale Climate Connections' monthly bookshelf collection since early 2015, I was acquainted with over 1,000 books and reports that address climate change in some way . . . The Climate Book is the most ambitious, wide-ranging, and hard-hitting collection I have ever encountered." —Yale Climate Connections

"The urgency to act now, to kick the addiction to fossil fuels, practically jumps off the page to punch you in the gut. So while not a pleasant read—it's quite stressful—it's a book I can't recommend enough." —Science News
 
"Stuffed with charts and graphs and photos . . . the book is sure to educate. . . . Hopefully billions of people read The Climate Book and enough of them rise up to demand change." —Associated Press
"Impressively, in The Climate Book, Thunberg and team—which includes well-known names like Margaret Atwood, George Monbiot, Bill McKibben and Robin Wall Kimmerer—explain and offer action items in 84 compelling, bite-size chapters . . . The cumulative impact on my understanding of the crisis through [the book's] data, cross-cultural reflections, and paths for step-by-step change became mesmerizing." —NPR.org
"Impassioned . . . Thunberg gathers essays from scientists, journalists, and activists, starting with lucid and accessible explanations of the science of global warming and its possible effects . . . A comprehensive and articulate shock to the system." —Publishers Weekly

"An urgent collection of writing by leaders in the fields of science, engineering, history, philosophy, and activism . . . Brilliant and alarming . . . Vital reading for anyone who cares about the planet." —Kirkus (starred review)
"[A] sweeping compendium of essays contributed by more than 100 academicians, authors, environmentalists, and journalists whose specific professional expertise or profound humanitarian concern amplifies the existing science surrounding this crisis of sustainability and ecology. Yet among this esteemed roster of recognized voices, it is Thunberg's own eloquence that elevates the collection with introductory essays for each section that convey a sense of urgency that is genuine, grounded, and unimpeachable." —Booklist (starred review)