New Release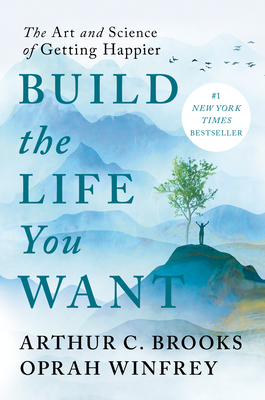 Build the Life You Want: The Art and Science of Getting Happier
Publication Date:
September 12th, 2023
Righton Books
On hand, as of Sep 21 8:51am
(Mind/Body/Spirit )
On Our Shelves - Available for Immediate Pickup or Shipping
Staff Reviews
Not a simplistic self-help book, Build the Life You Want is a practical guide to taking control of your emotional life, with happiness as a goal. Written in an intelligent and thoughtful style by a Harvard Business School professor who writes the "How to Build A Life" column for The Atlantic Monthly, with additional insight by Oprah Winfrey.
— Anne
Description
You can get happier. And getting there will be the adventure of your lifetime.
In Build the Life You Want, Arthur C. Brooks and Oprah Winfrey invite you to begin a journey toward greater happiness no matter how challenging your circumstances. Drawing on cutting-edge science and their years of helping people translate ideas into action, they show you how to improve your life right now instead of waiting for the outside world to change.
With insight, compassion, and hope, Brooks and Winfrey reveal how the tools of emotional self-management can change your life―immediately. They recommend practical, research-based practices to build the four pillars of happiness: family, friendship, work, and faith. And along the way, they share hard-earned wisdom from their own lives and careers as well as the witness of regular people whose lives are joyful despite setbacks and hardship.
Equipped with the tools of emotional self-management and ready to build your four pillars, you can take control of your present and future rather than hoping and waiting for your circumstances to improve. Build the Life You Want is your blueprint for a better life.
About the Author
Arthur C. Brooks is the William Henry Bloomberg Professor of the Practice of Public Leadership at Harvard Kennedy School and Professor of Management Practice at Harvard Business School, where he teaches courses on happiness and leadership. He is the creator of the popular "How to Build a Life" column at The Atlantic, an acclaimed public speaker, and the author of numerous bestselling books, including From Strength to Strength and Love Your Enemies.
As a global media leader and communications pioneer, Oprah Winfrey has built unparalleled connections with people around the world. Through The Oprah Winfrey Show, she entertained, enlightened, and uplifted millions of viewers for twenty-five years. Her accomplishments as a philanthropist and her commitment to books, reading, and education have established her as one of the most respected and admired public figures today.