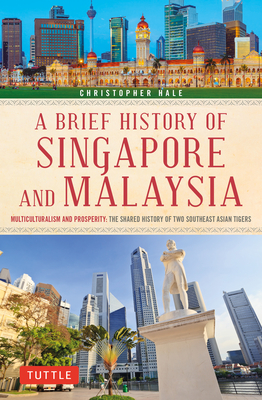 A Brief History of Singapore and Malaysia: Multiculturalism and Prosperity: The Shared History of Two Southeast Asian Tigers (Brief History of Asia)
Publication Date:
March 21st, 2023
Publisher:
Tuttle Publishing
Description
The fascinating account of two former British colonies with a shared past but vastly different identities today
Singapore and Malaysia sit astride the sea lanes linking East with West--vital choke points in the world's commerce. Since ancient times, ports along the Silk Road of the Sea were populated by peoples from around the globe who came here to trade and live, carried by the steady flow of goods and the ever-present monsoon winds.
Author Christopher Hale recounts many fascinating histories of this region, including:
The ancient international trade in spices and the seven voyages to the southern seas of the Chinese eunuch Admiral Zheng He in the 15th century
The rise of Islamic kingdoms along rivers bordering the Straits of Malacca and the conquest of Malacca, one of the world's largest cities, by a few hundred Portuguese marauders in 1511
The saga of Sir Stamford Raffles, credited with founding Singapore, and the development of tin mines and vast rubber and oil palm plantations on the Malay Peninsula
The disastrous fall of "Fortress Singapore" to the Japanese in World War II after only three weeks of fighting, the worst British military defeat in history
The wildly successful film Crazy Rich Asians, set in Singapore, the highest grossing romantic comedy of the decade
A Brief History of Singapore and Malaysia tells these and many other compelling stories about the people and events which have shaped these nations as they developed into modern powerhouses of international trade and tourism.