Discounted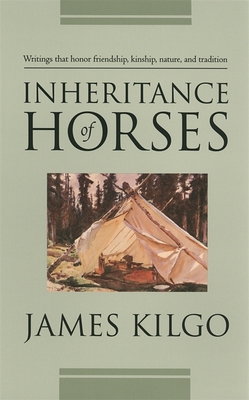 Inheritance of Horses (Brown Thrasher Books)
Previous price:

$21.95
Current price:

$19.95
Publication Date:
October 1st, 1995
Publisher:
University of Georgia Press
Description
Reconciliation and remembering are the forces at work in Inheritance of Horses. In these essays, James Kilgo seeks the common ground between his roles as a man, as husband and father, and as heir to his family legacy. Pausing at mid-life to make an eloquent, understated stand against our era's rootlessness, he honors friendship, kinship, nature, and tradition.
In the opening section, Kilgo focuses on the tension between his need for ritualistic male camaraderie and his familial obligations. Searching the woods for arrowheads, sitting around the dinner table at a hunting lodge, or careening down an abandoned logging road in a pickup, he seems ever-prone to the intrusions of domesticity and civilization: a sudden memory of miring the family station wagon in the sand on a beach trip, an encounter with a couple on their sixtieth wedding anniversary, a stream littered with trash and stocked with overbred hatchery trout.
Restlessness and responsibility converge and again clash in the second series of essays, in which domestic themes are explored in settings that range from Kilgo's own living room to Yellowstone Park and the deep waters off the Virgin Islands. Through such images as a hornet's nest, a gale-force storm, a grizzly bear, and a marlin, Kilgo gauges the strengths and vulnerabilities of his family and moves toward an existence that is part of, not apart from, the women in his life.
The long title essay composes the book's final section. Reading through a cache of letters exchanged between his two grandfathers, Kilgo recovers and revises his memories of them. What he learns of their open, passionate friendship reveals an essentially feminine aspect of their patriarchal natures, enriching, but also confusing, Kilgo's earlier understanding of who they were. As some of the more unhappy or unpleasant details of his grandfathers' lives come to light, they first heighten, then assuage, Kilgo's ambivalence about a family heritage built as much on myth as on truth.
The manner in which Kilgo makes such intensely personal concerns so broadly relevant accentuates what might be called the "told," rather than the "written," quality of Inheritance of Horses. He is foremost a storyteller, working in a style that is classically southern in its pacing and its feel for the land, but all his own in its restrained humor and lack of self-absorption. Guided by a storyteller's respect for common people and common feelings, Kilgo never prescribes or moralizes but rather brings us to places where principled choices can be made about what we need and value most in our lives.
Praise for Inheritance of Horses (Brown Thrasher Books)
"This is mighty fine writing. . . . These essays are made of the real stuff of life, movingly portrayed, deeply touched with humor and dignity and sadness and, above all, the joy of life. There is great eloquence here."--Larry Brown, author of Fay
"Kilgo's Inheritance of Horses is a remarkable book. The prose has a deep and abiding grace married to a strikingly original candor, more classic than confessional, more mainstream than au courant."--Jim Harrison
"What Kilgo does so well is bring the reader along with him. The prose is clean and runs like a smooth stream. Under the surface the reader sees trout waving in the current and waits for Kilgo to hook phrase and idea. He is clearly one of the good folk, a man who loves words, and a good teacher to his readers."--Sam Pickering
"This is not a book about a midlife crisis, but a book of self-reflection in the best sense, a way of noting down the details of the author's world that makes us want to know more about the places he inhabits. There is a high value placed on storytelling here, and Mr. Kilgo's writing reflects time spent retelling the adventures of the day back at the campfire in the evening. But he has matched his marvelous ear for dialogue with a clean, direct style that is lyrical without becoming sentimental. . . . The obvious comparison is to Hemingway."--New York Times Book Review