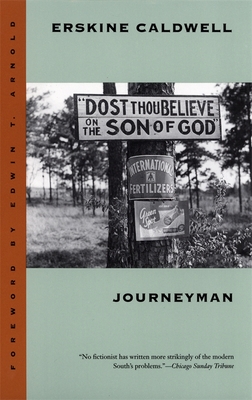 Journeyman (Brown Thrasher Books)
Publication Date:
August 1st, 1996
Publisher:
University of Georgia Press
Description
Written immediately following Tobacco Road and God's Little Acre, this novel introduces one of Erskine Caldwell's most memorable characters: the philandering, murderous itinerant preacher, Semon Dye. Part allegory, part tall tale, and with a good measure of old frontier humor, Journeyman, /i> tells of a stranger, as devilish as he is divine, who mysteriously arrives in Rocky Comfort, Georgia, and, inside of a week, nearly tears the small community apart.
Helping Rocky Comfort's citizens to rationalize their vices and weaknesses, Semon Dye then uses their flaws to his own advantage. Offering no forgiveness for their actions and no justification for his own, he confronts the people of Rocky Comfort with their own sins as he gambles, drinks, carouses, and fights along with them.
Culminating in a tumultuous, ecstatic revival, Journeyman is filled with insights into human nature and the physical and emotional components of religious fervor. This volume reprints the complete text of Journeyman as it was first published, before the more widely circulated edition, expurgated in the aftermath of the legal battles waged against God's Little Acre, was released.
Praise for Journeyman (Brown Thrasher Books)
"Perhaps we're like New Yorkers who have never seen the Statue of Liberty—we forget the genius in our own backyard. Erskine Caldwell is one. . . . No one more richly deserves a critical renaissance than this writer, whose laser eye and balanced wit bring life to his work."--Southern Living