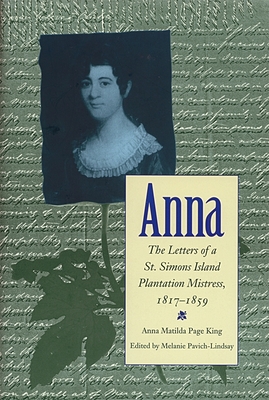 Anna: Letters of a St Simons Island Plantation Mistress, 1817-1859 (Southern Voices from the Past: Women's Letters)
Publication Date:
November 18th, 2002
Publisher:
University of Georgia Press
Description
As the wife of a frequently absent slaveholder and public figure, Anna Matilda Page King (1798-1859) was the de facto head of their Sea Island plantation. This volume collects more than 150 letters to her husband, children, parents, and others. Conveying the substance of everyday life as they chronicle King's ongoing struggles to put food on the table, nurse her "family black and white," and keep faith with a disappointing husband, the letters offer an absorbing firsthand account of antebellum coastal Georgia life.
Anna Matilda Page was reared with the expectation that she would marry a planter, have children, and tend to her family's domestic affairs. Untypically, she was also schooled by her father in all aspects of plantation management, from seed cultivation to building construction. That grounding would serve her well. By 1842 her husband's properties were seized, owing to debts amassed from crop failures, economic downturns, and extensive investments in land, enslaved workers, and the development of the nearby port town of Brunswick. Anna and her family were sustained, however, by Retreat, the St. Simons Island property left to her in trust by her father. With the labor of fifty bondpeople and "their increase" she was to strive, with little aid from her husband, to keep the plantation solvent.
A valuable record of King's many roles, from accountant to mother, from doctor to horticulturist, the letters also reveal much about her relationship with, and attitudes toward, her enslaved workers. Historians have yet to fully understand the lives of plantation mistresses left on their own by husbands pursuing political and other professional careers. Anna Matilda Page King's letters give us insight into one such woman who reluctantly entered, but nonetheless excelled in, the male domains of business and agriculture.
Praise for Anna: Letters of a St Simons Island Plantation Mistress, 1817-1859 (Southern Voices from the Past: Women's Letters)
"With an almost unrivaled richness, [King's] letters are full of details that would be of interest to historians of southern honor, family, politics, agriculture, gardening, child-rearing, travel, education, gender roles, and slavery, to say nothing of a reader drawn to the history of coastal Georgia"--William L. Barney, University of North Carolina at Chapel Hill
"The beauty of this series of letters is that both the selection and the wonderful annotation provides the reader with a fascinating portrait. King's letters allow us a window onto her sea-island plantation world: illnesses, emotions, habits, practices, the gossip and grind of everyday life. Pavich-Lindsay has taken a very ordinary woman's letters and put them into an extraordinarily rich context which illuminates an entire era and region."--Catherine Clinton, author of Fanny Kemble's Civil Wars
"It is hard to put this volume down. . . . This volume will be of immeasurable interest to students, scholars, and the general public—to all those seeking greater insights into women and plantation life in the Old South."--Civil War Book Review
"This is a valuable record of King's many roles and her relationship with, and attitude toward, her enslaved workers."--The Courier, Tennessee Historical Commission
"Pavich-Lindsay . . . persuasively argues how the examination of one woman's letters can reveal much about an entire society and period. . . . Those interested in the Old South or women's history can learn much of interest from this collection."--Virginia Quarterly Review
"King . . . creates a compelling portrait of Sea Island plantation life by retelling the mundane and quotidian. The richness is in the detail . . . [the book] provides important insight into the minds and lives of antebellum Southern women. . . . Offers especially fascinating glimpses into Southern life . . . King has succeeded in making a significant contribution to our understanding of the larger issues of antebellum Southern life."--Civil War History
"[Anna's] engaging correspondence will edify scholars researching antebellum women and family, particularly those debunking the mythology of Tara."--Journal of Southern History