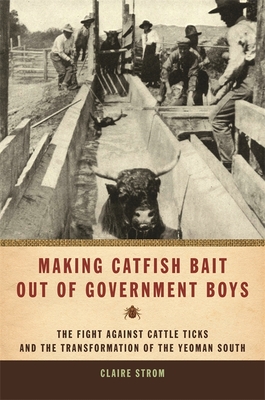 Making Catfish Bait Out of Government Boys: The Fight Against Cattle Ticks and the Transformation of the Yeoman South (Environmental History and the American South)
Publication Date:
August 1st, 2009
Publisher:
University of Georgia Press
Description
This first full-length study of the cattle tick eradication program in the United States offers a new perspective on the fate of the yeomanry in the twentieth-century South during a period when state and federal governments were both increasing and centralizing their authority. As Claire Strom relates the power struggles that complicated efforts to wipe out the Boophilus tick, she explains the motivations and concerns of each group involved, including large- and small-scale cattle farmers, scientists, and officials at all levels of government.
In the remote rural South--such as the piney woods of south Georgia and north Florida--resistance to mandatory treatment of cattle was unusually strong and sometimes violent. Cattle often ranged free, and their owners raised them mostly for local use rather than faraway markets. Cattle farmers in such areas, shows Strom, perceived a double threat in tick eradication mandates. In addition to their added costs, eradication schemes, with their top-down imposition of government expertise, were anathema to the yeomanry's notions of liberty.
Strom contextualizes her southern focus within the national scale of the cattle industry, discussing, for instance, the contentious place of cattle drives in American agricultural history. Because Mexico was the primary source of potential tick reinfestation, Strom examines the political and environmental history of the Rio Grande, giving the book a transnational perspective. Debates about the political and economic culture of small farmers have tended to focus on earlier periods in American history. Here Strom shows that pockets of yeoman culture survived into the twentieth century and that these communities had the power to block (if only temporarily) the expansion of the American state.