Discounted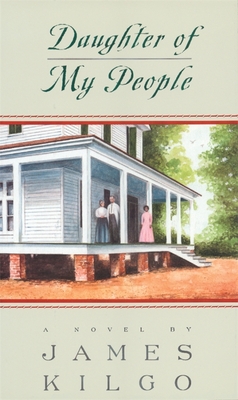 Daughter of My People (Brown Thrasher Books)
Previous price:

$28.95
Current price:

$26.95
Publication Date:
April 1st, 2007
Publisher:
University of Georgia Press
Description
In this extraordinary, long-awaited debut novel, the acclaimed essayist James Kilgo has woven a richly textured and complex tale from the threads of actual events. Set in rural South Carolina in the early twentieth century, Daughter of My People is the story of the ties of land, blood, and honor that bind and threaten to destroy two families.
At the center of the story are two brothers, Hart and Tison Bonner, and their cousin Jennie Grant, the mixed-race woman one brother loves and the other dishonors. Theirs is a world in which dark passions lead to tragic consequences. The burden of understanding that promises redemption and victory over the destructive forces of ignorance and prejudice rests on the shoulders of Jennie. A shadowy but prominent figure in the stories passed down to Kilgo, Jennie here is given her due. Her strength and dignity, the driving forces of this novel, shine through the generations with the glow of heirloom sterling.
Kilgo is a sensory writer, bringing the landscape alive with an abundance of sights, sounds, and smells. He writes with a resonance that draws the reader in and does not let go until long after the last page has been turned. "This is a love story," he says. "And I hope it breaks the reader's heart as mine was broken in the telling of it."
Praise for Daughter of My People (Brown Thrasher Books)
"A beautifully crafted novel—a love story complex in its explorations of betrayal and sacrifice, and one that will not be forgotten. Kilgo's southern landscape is so accurately and richly depicted, the sights and sounds, the smells and summer heat seem to rise from the page. He brings the place and all of those souls left to haunt it to life."--Jill McCorkle, author of Carolina Moon
"Finally, the truth about the post-Civil War South! Every line is a triumph. Kilgo's voice is honest and original. He's the novelist we've been waiting for."--Janice Daugharty, author of Necessary Lies
"A brilliant and powerful novel. Reading it was for me what the best fiction always is: a discovery."--Charles East, author of Distant Friends and Intimate Strangers
"What a pleasure to see Kilgo's gifts for sharp observation and pungent prose turned to fiction. And what a story he has to tell."--Pam Durban, author of The Laughing Place
"With a compelling story to tell, Kilgo obviously spent a great deal of time and effort in its careful crafting. . . . He is spare and clean in his writing but allows himself here of some really fine dialogue and-perhaps his best trait-setting the scene."--Baton Rouge Advocate
"Kilgo's rich language, especially when describing the South Carolina land, brims with its own breath, depicting with an acute exactness the smell, sound and feel of the world that surrounds the events of the novel. . . . Daughter of My People brings to fiction the pure, sensory strength and wonder that has pervaded his best writing on the natural world."--Macon Telegraph
"Packs an emotional wallop . . . Reading Daughter of My People may break your heart. It broke mine. Author James Kilgo wants it that way. He says it broke his own heart in the writing of it."--Myrtle Beach Sun-News
"A debut novel of considerable emotional force . . . A memorable success—sad, vivid, and haunting."--Kirkus Reviews