Discounted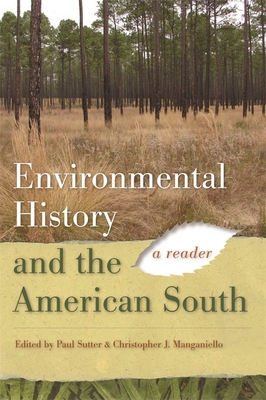 Environmental History and the American South: A Reader
Previous price:

$44.95
Current price:

$32.95
Publication Date:
March 1st, 2009
Publisher:
University of Georgia Press
Description
This reader gathers fifteen of the most important essays written in the field of southern environmental history over the past decade. Ideal for course use, the volume provides a convenient entr e into the recent literature on the region as it indicates the variety of directions in which the field is growing. As coeditor Paul S. Sutter writes in his introduction, "recent trends in environmental historiography--a renewed emphasis on agricultural landscapes and their hybridity, attention to the social and racial histories of environmental thought and practice, and connections between health and the environment among them--have made the South newly attractive terrain. This volume suggests, then, that southern environmental history has not only arrived but also that it may prove an important space for the growth of the larger environmental history enterprise."
The writings, which range in setting from the Texas plains to the Carolina Lowcountry, address a multiplicity of topics, such as husbandry practices in the Chesapeake colonies and the aftermath of Hurricane Andrew. The contributors' varied disciplinary perspectives--including agricultural history, geography, the history of science, the history of technology, military history, colonial American history, urban and regional planning history, and ethnohistory--also point to the field's vitality. Conveying the breadth, diversity, and liveliness of this maturing area of study, Environmental History and the American South affirms the critical importance of human-environmental interactions to the history and culture of the region.
Contributors: Virginia DeJohn AndersonWilliam BoydLisa BradyJoshua Blu BuhsJudith CarneyJames Taylor CarsonCraig E. ColtenS. Max EdelsonJack Temple KirbyRalph H. LuttsEileen Maura McGurtyTed SteinbergMart StewartClaire StromPaul SutterHarry WatsonAlbert G. Way