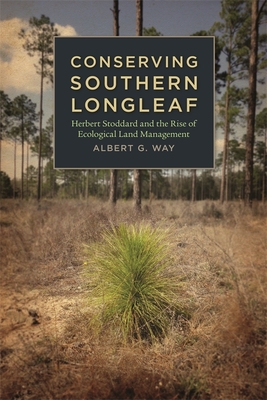 Conserving Southern Longleaf: Herbert Stoddard and the Rise of Ecological Land Management (Environmental History and the American South)
Publication Date:
November 1st, 2011
Publisher:
University of Georgia Press
Description
The Red Hills region of south Georgia and north Florida contains one of the most biologically diverse ecosystems in North America, with longleaf pine trees that are up to four hundred years old and an understory of unparalleled plant life. At first glance, the longleaf woodlands at plantations like Greenwood, outside Thomasville, Georgia, seem undisturbed by market economics and human activity, but Albert G. Way contends that this environment was socially produced and that its story adds nuance to the broader narrative of American conservation.
The Red Hills woodlands were thought of primarily as a healthful refuge for northern industrialists in the early twentieth century. When notable wildlife biologist Herbert Stoddard arrived in 1924, he began to recognize the area's ecological value. Stoddard was with the federal government, but he drew on local knowledge to craft his land management practices, to the point where a distinctly southern, agrarian form of ecological conservation emerged. This set of practices was in many respects progressive, particularly in its approach to fire management and species diversity, and much of it remains in effect today.
Using Stoddard as a window into this unique conservation landscape, Conserving Southern Longleaf positions the Red Hills as a valuable center for research into and understanding of wildlife biology, fire ecology, and the environmental appreciation of a region once dubbed simply the "pine barrens."
Praise for Conserving Southern Longleaf: Herbert Stoddard and the Rise of Ecological Land Management (Environmental History and the American South)
"Albert Way provides a fascinating and enlightening environmental history of a critically endangered ecosystem, its modest champion, and the incendiary ideas that formed the basis of management for species diversity."—Frederick R. Davis, author of The Man Who Saved Sea Turtles: Archie Carr and the Origins of Conservation Biology
"Conserving Southern Longleaf tells the gripping story of a remarkable place—the Red Hills of Florida and Georgia—and the improbable naturalist—Herbert Stoddard—who solved the mystery surrounding the survival of the ancient longleaf pines that once dominated not only that particular region but also much of the southeastern coastal plains. Using vivid, engaging prose, Way shows how Stoddard's appreciation for local knowledge and practices led him to fundamentally challenge the forestry establishment of his day, help lay the foundations for modern wildlife management, and ultimately point the way to the development of conservation biology."—Mark V. Barrow Jr., author of Nature's Ghosts: Confronting Extinction from the Age of Jefferson to the Age of Ecology