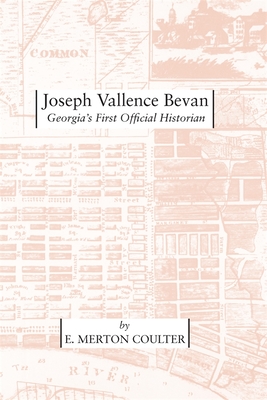 Joseph Vallence Bevan: Georgia's First Official Historian (Wormsloe Foundation Publication #7)
Publication Date:
March 1st, 2010
Publisher:
University of Georgia Press
Description
Published in 1964, this biography of Joseph Vallence Bevan tells the story of Georgia's first official historian. Born in Ireland, Bevan moved with his family to Georgia at a young age. He attended the University of Georgia and the College of South Carolina before continuing his education in England. There he met William Godwin, an influential political philosopher, journalist, and novelist, who wrote Letter of Advice To a Young American: On the Course of Studies It Might Be Most Advantageous for Him To Pursue for Bevan.
Back in the U.S., Bevan edited the Augusta Chronicle & Georgia Gazette, studied law, served on the Georgia legislature, and became coeditor and owner of the Savannah Georgian. In 1824, by recommendation of Governor George M. Troup, the legislature appointed Bevan as the first official historian of Georgia. His main duties were to arrange the state archives, publish selections from the archives, and to write a history of the state. Bevan was unable to complete a history of Georgia before his death in 1830 at the young age of thirty-two. However, he paved the road for future historians making important acquisitions of transcripts from Great Britain which describe the colonial history of Georgia.