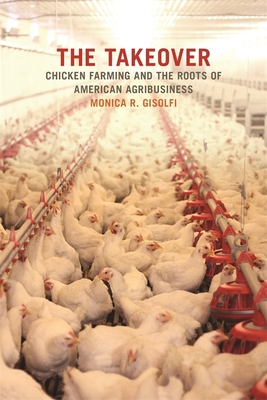 Takeover: Chicken Farming and the Roots of American Agribusiness (Environmental History and the American South)
Publication Date:
April 1st, 2017
Publisher:
University of Georgia Press
Description
Economists have described the upcountry Georgia poultry industry as the quintessential agribusiness. Following a trajectory from Reconstruction through the Great Depression to the present day, Monica R. Gisolfi shows how the poultry farming model of semivertical integration perfected a number of practices that had first underpinned the cotton-growing crop-lien system, ultimately transforming the poultry industry in ways that drove tens of thousands of farmers off the land and rendered those who remained dependent on large agribusiness firms.
Gisolfi argues that the inequalities inherent in the structure of modern poultry farming have led to steep human and environmental costs. Agribusiness firms--many of them descended from the cotton-era South's furnishing merchants--brought farmers into a system of feed-conversion contracts that placed all production decisions in the hands of the poultry corporations but at least half of the capital risks on the farmers. Along the way, the federal government aided and abetted--sometimes unwittingly--the consolidation of power by poultry firms through direct and indirect subsidies and favorable policies. Drawing on USDA files, oral history, congressional records, and poultry publications, Gisolfi puts a local face on one of the twentieth century's silent agribusiness revolutions.