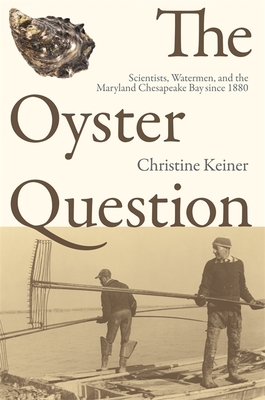 The Oyster Question: Scientists, Watermen, and the Maryland Chesapeake Bay Since 1880 (Environmental History and the American South)
Publication Date:
October 1st, 2010
Publisher:
University of Georgia Press
Description
In The Oyster Question, Christine Keiner applies perspectives of environmental, agricultural, political, and social history to examine the decline of Maryland's iconic Chesapeake Bay oyster industry.
Oystermen have held on to traditional ways of life, and some continue to use preindustrial methods, tonging oysters by hand from small boats. Others use more intensive tools, and thus it is commonly believed that a lack of regulation enabled oystermen to exploit the bay to the point of ruin.
But Keiner offers an opposing view in which state officials, scientists, and oystermen created a regulated commons that sustained tidewater communities for decades. Not until the 1980s did a confluence of natural and unnatural disasters weaken the bay's resilience enough to endanger the oyster resource. Keiner examines conflicts that pitted scientists in favor of privatization against watermen who used their power in the statehouse to stave off the forces of rural change. Her study breaks new ground regarding the evolution of environmental politics at the state rather than the federal level.
The Oyster Question concludes with the impassioned ongoing debate over introducing nonnative oysters to the Chesapeake Bay and how that proposal might affect the struggling watermen and their identity as the last hunter-gatherers of the industrialized world.
Praise for The Oyster Question: Scientists, Watermen, and the Maryland Chesapeake Bay Since 1880 (Environmental History and the American South)
"In The Oyster Question, Christine Keiner adds depth and nuance to this more complex view of conservation. Tracing the history of scientific research and the oyster fishery in Chesapeake Bay, she demonstrates how science and conservation must be understood as local phenomena that are shaped by specific environmental and social contexts."--Isis
"A first-rate analysis of the interaction between science, environment, and politics alongside one of the nation's oldest and most important conservation problems. This book will be necessary reading for anyone who wonders why good science doesn't necessarily lead to good policy, in resources management or any other area."--Arthur F. McEvoy, author of The Fisherman's Problem: Ecology and Law in the California Fisheries, 1850–1980
"An exciting contribution to both the history of science and environmental history. In this case study of the Maryland oyster fishery, Keiner does an excellent job of combining these two historical perspectives to shed new light on the depths of a problem that has challenged all of the American oyster states since the early nineteenth century. Through her analysis, Keiner effectively reframes how environmental historians have analyzed histories of common resources and provides a working model for integrating historical and ecological information to bridge the histories of science and environmental history."--Journal of the History of Biology
"An imaginative environmental history that combines politics, science, and the work of watermen. By considering the limits of social science research in relationship to one state's unique legislative practices, Keiner makes a compelling argument for viewing natural resource struggles from multiple, locally situated perspectives."--OAH Frederick Jackson Turner Award committee
"Keiner skillfully illuminates [The Oyster Question] by combining environmental, maritime, social, political, and cultural history."--Journal of American History
"In The Oyster Question, Christine Keiner adds depth and nuance to this more complex view of conservation. Tracing the history of scientific research and the oyster fishery in Chesapeake Bay, she demonstrates how science and conservation must be understood as local phenomena that are shaped by specific environmental and social contexts."--Isis
"Truly impressive. Keiner's remarkably detailed scholarship taps into multiple emerging subfields. Her sustained analysis of nonelite perspectives will contribute enormously by introducing environmental historians to the importance of class, race, religion, and local tradition in the larger conservation picture."--Richard W. Judd, author of Common Lands, Common People: The Origins of Conservation in Northern New England
"Keiner's rich analysis of the politics of science and her insightful comparisons between governmental programs for farmers and those for fishermen demonstrate the importance of connecting the history of the marine landscapes to understandings of history on land."—Journal of Southern History