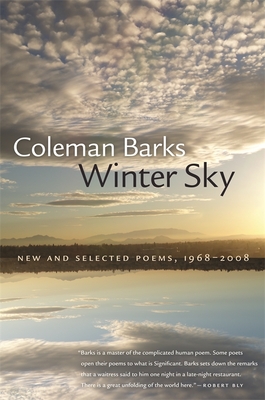 Winter Sky: New and Selected Poems, 1968-2008 (Brown Thrasher Books)
Publication Date:
January 15th, 2012
Publisher:
University of Georgia Press
Description
As the foremost translator of thirteenth-century mystic poet Jalal Al-Din Rumi, Coleman Barks reaches a devoted, inspired, and ever-widening international audience. Yet the foundation for Barks's work as a translator is his own significant body of work as a poet. Winter Sky offers a selection from Barks's seven previously published books combined with a group of new poems.
Barks's open-hearted, free verse poetry is infused with a joy of the spirit at play with the forms of the world. His journey through life is deeply embedded in his work. The poems spring directly from experience and engage with subjects such as the elation and struggle of having and raising children, grief over the deaths of loved ones, the transition from parent to grandparent, or the changing nature and intensity of desire. Barks's open letter to President Bush, written days before the invasion of Iraq and widely circulated online, is a poetic plea for peace, offering a startling and moving alternative to war.
Whether it is the childhood excitement of being named best athlete at summer camp or the early signs of dementia at the age of seventy, Barks uses the personal to convey the universal. The unique flow of a life is here in poems that are rueful, confused, torn, and grateful, but always informed by Barks's transcendent sense of joy and playfulness.
Praise for Winter Sky: New and Selected Poems, 1968-2008 (Brown Thrasher Books)
"Barks is a master of the complicated human poem. Some poets open their poems to what is Significant. Barks sets down the remarks that a waitress said to him one night in a late-night restaurant. There is a great unfolding of the world here."--Robert Bly
"Why do people read poems? For comfort and a sense of companionship, for encouragement, for the beauty of language, for energy placed on the page with a wish to give it away. Coleman Barks is one of the best. He has given us Rumi. Now he gives us his own work, which is thoughtful, compassionate, attentive and, at times, positively frisky. We are all enriched by his presence in this collection of his own poems. My advice: get a copy as fast as you can and, by the influence of his voice which honors both the vatic and the experience of his own singular life, be both comforted and mindfully enlivened."--Mary Oliver
"Reading Coleman Barks is the equivalent of a rich transfusion of vitality. His writings carry a huge generosity of spirit replenishing everything good, funny, brave, brilliant, honest, readers could ever hope for. Nothing rejected or shunned, but life in all its conflicted elegance graciously taken into the circle and tossed up into new light: one of the widest-open, wildest voices we might ever embrace."--Naomi Shihab Nye