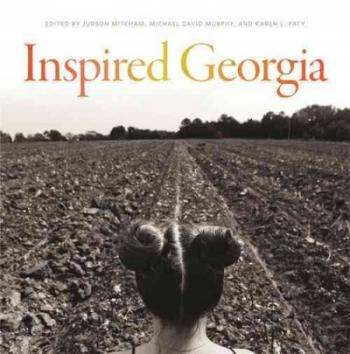 Inspired Georgia
Publication Date:
September 1st, 2016
Publisher:
University of Georgia Press
Righton Books
On hand, as of May 31 12:51am
(Local Interest )
On Our Shelves - Available for Immediate Pickup or Shipping
Description
Inspired Georgia is a unique collection of Georgia's contemporary poets and photographers that engages the history and culture of the state, while serving as a document of some of the best and most powerful pieces penned by Georgia poets and images shot by Georgia photographers in recent years. Representing a wide range of styles, attitudes, and backgrounds, the poets either hail from Georgia or have spent a considerable amount of time in their adopted state. Chosen from previously published collections, representing various stages of the poets' careers, these poems exemplify the great talent, insight, and creativity present in Georgia letters.
A geographically diverse representation of Georgia photographers is included, showcasing a wide range of talent well versed in making insightful and intimate images. The interweaving of photographs with poems (and poems with photographs) creates spaces of possibility, where what's in the mind's eye might (or might not) meet what's found in front of the camera's lens.
While complementary, the poems and photographs in Inspired Georgia are not in dialogue with each other--they echo, resonate, and reflect the places they inhabit. They pay homage to the ecology, terrain, and culture of Georgia, which in turn draws in, nurtures, and fuels the intellect of its many and varied artists.
About the Author
Judson Mitcham (Editor) JUDSON MITCHAM's poems have appeared in Poetry, the Georgia Review, and Harper's. His novels, The Sweet Everlasting and Sabbath Creek, are both winners of the Townsend Prize for Fiction. He teaches writing at Mercer University. Michael David Murphy (Editor) MICHAEL DAVID MURPHY is the digital director for Atlanta Celebrates Photography, a nonprofit arts organization dedicated to the cultivation of the photographic arts and the enrichment of the Atlanta art community. Karen L. Paty (Editor) KAREN L. PATY is the executive director of the Georgia Council for the Arts, a division of the Georgia Department of Economic Development that supports the arts industry in Georgia, preserves our cultural heritage, and creates increased access to high quality arts experiences. She has been working in the arts and community development for more than fifteen years. Diane Kirkland (Photographer) DIANE KIRKLAND is the senior photographer for the Georgia Department of Industry, Trade & Tourism. Her work has appeared in national and international publications, including the New York Times, Forbes, TIME magazine, USA Today, American Heritage, and Southern Living.