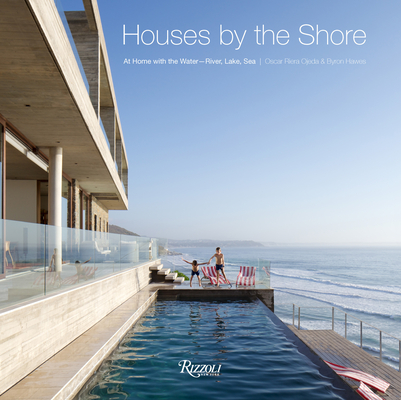 Houses by the Shore: At Home With The Water: River, Lake, Sea
Publication Date:
October 16th, 2018
Description
Highlighting thirty-five spectacular recently completed houses overlooking sea, lake, river, and ocean, selected for beauty and variety across the globe, Houses by the Shore features homes that demonstrate the extraordinarily diverse ways that today's leading architects and interior designers build and design homes on the water and new approaches homeowners are taking to life on the shore.
Frequently elegant and uncluttered, these houses serve as models of smart and often exquisite design with lots of ideas for homeowners who don't necessarily live in a waterfront home, but who wish to have something of that appeal and sensitivity in their own space.
A range of projects encompassing myriad geographic and cultural inspirations show some of the world's most inviting residences, built in stone and glass, in wood and steel and concrete. The houses vary in size and style, though all within the realm of the modern, from open plan homes that include terraces and rooms that flow from indoors to out, to spaces flooded with light and views. Each house is photographed comprehensively with detailed interior and exterior pictures and plans, and placed into context through the lens of widely respected editor Oscar Riera Ojeda and descriptive texts written by design critic Byron Hawes, to give readers a privileged look at the best of shore-side residential architecture.
With its beautiful modernist homes set beside the golden sands of the gulf coast of Mexico or upon the romantic islands of Greece, from Finland to South Africa to New Zealand, Houses by the Shore is a paean to rooms with a view.
About the Author
Oscar Riera Ojeda is an editor and designer based in the United States, China, and Argentina. He has designed, edited, and published over 200 architecture, design, and photography books. His books have been published by prestigious publishing houses across the world. His work has received many international awards, in-depth reviews, and citations. He is currently the director of the eponymous boutique publishing architecture house: Oscar Riera Ojeda Publishers.
Byron Hawes is a New York and Toronto-based writer and designer. He is the founder and editor of the underground architecture and design magazine The Après Garde, and a co-founder of I-V, a boutique firm that has done architecture projects including a recording studio and offices for OVOsound, Campari's Canadian HQ, and Spin Toronto. He serves as contributing editor of architecture and design at Hypebeast, and senior editor at Flofferz. Additionally, he has authored or co-authored the books Unbuilt: Conceptual Architecture, We are Wanderful: 25 Years of Design & Fashion in Limburg, Post Industrial Brutalism and the Daiquiri and Paul Sangha Landscape Architecture.
Praise for Houses by the Shore: At Home With The Water: River, Lake, Sea
"Tour 35 Spectacular Houses in this Beautiful Newly Released Book!" —My Design Chic