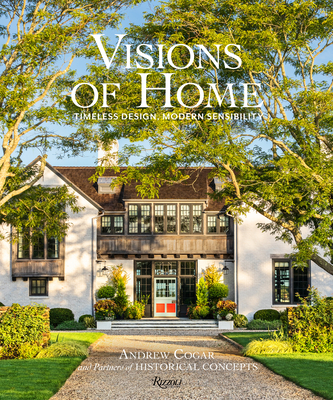 Visions of Home: Timeless Design, Modern Sensibility
Publication Date:
March 16th, 2021
Ships in 1-3 Days
This item is not currently in stock at the store for pickup but we can order it for you. Please call for details.
Description
A new volume from the esteemed architecture firm Historical Concepts features extraordinary homes rooted in tradition and enriched with a modern sensibility.
Known for designing welcoming Southern homes, Historical Concepts, one of today's leading traditional architecture firms, is now working on diverse projects across America and in exotic locales, such as the Caribbean and Patagonia. A multigenerational team of architects is extending the firm's founding philosophy--expressing both timeless and inventive perspectives on design. Showcased are beautifully photographed country estates, coastal retreats, and pastoral properties, all weaving the classical principles of symmetry, scale, and proportion with vernacular motifs and artisanal craftsmanship to create stylish and comfortable backdrops for contemporary living. Sophisticated interior decoration and stunning landscapes accompany the architecture, creating a harmonious sense of place. Through engaging stories that inform, Andrew Cogar shows how to reimagine the traditional home--whether an elegant Greek Revival pavilion, a chic Hamptons summer house, or a reinterpretation of a historic Charleston single house--to capture one's unique point of view. Visions of Home is an invaluable resource for those who enjoy the warmth and charm of traditional architecture.
About the Author
Andrew Cogar is the president of Historical Concepts, an architecture firm founded by James L. Strickland in 1982. With offices in Atlanta and New York, the firm is regularly published in shelter magazines and received the prestigious Arthur Ross Award from the Institute of Classical Architecture & Art. Marc Kristal is a prolific journalist who has cowritten books for architects and interior designers. Eric Piasecki is a leading lifestyle photographer, whose work has been widely published.
Praise for Visions of Home: Timeless Design, Modern Sensibility
"... gorgeous, and a must-buy for anyone passionate for architecture or design." —PORTOBELLO DESIGN
"Visions of Home highlights the impressive work of the Southern architecture and interior design firm Historical Concepts." —ELLEDECOR.COM