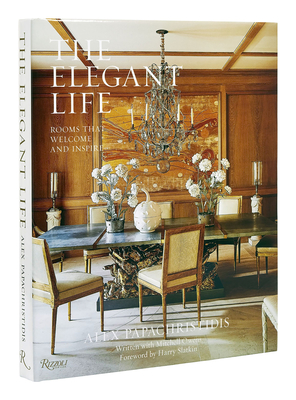 The Elegant Life: Rooms That Welcome and Inspire
Publication Date:
October 11th, 2022
Description
Features recent interiors that are classic with an unexpected twist, inspiring for those who enjoy entertaining at home.
Known for his interesting mix of elegant and modern styles that he masterfully assembles to create timeless spaces, Alex Papachristidis has evolved his decorating over the past decade, with the incorporation of more artisanal furniture and artwork. This beautifully photographed book profiles a wide array of arresting projects, including a luxe, modern beach house decorated in gold, silver, and white; a Manhattan home that has a vivid lavender-and-blue palette; and a colorful "bohemian" apartment incorporating midcentury furniture. Each project presents the varied ways he makes spaces versatile to share with family and friends—from cozy seating areas to games tables.
 
Throughout the book are tabletop settings styled by Papachristidis that are integrated in many of the featured homes. He shows his clients how to mix such wide-ranging elements as contemporary dishes with antique decorative objets to create eye-catching tableaux. With this book, the author shares his extensive knowledge for gracious living.
About the Author
Alex Papachristidis founded Manhattan-based Alex Papachristidis Interiors in 1987. Since then, he has established himself as one of the foremost tastemakers in the design world—named to Architectural Digest's AD100 and lauded for his tabletop business, Everyday Elegance, with partner Lisa McCarthy. His work has been published in such shelter publications as Architectural Digest, Veranda, and Elle Decor, and. in his.Rizzoli book, The Age of Elegance. In 1992, Harry Slatkin and his wife, Laura, established Slatkin & Co., the premier home fragrance company. Mitchell Owens is a lifestyle journalist who is the American editor of The World of Interiors as well as a regular contributor to Architectural Digest.
Praise for The Elegant Life: Rooms That Welcome and Inspire
"...celebrates stunning interiors..." —CAPITOL FILE
"Alex Papachristidis is set to release his latest book. The Elegant Life: Rooms That Welcome and Inspire come September. With a foreword by Harry Slatkin, the book is sure to dazzle with splendor. We cannot wait to get our hands on a copy!" —THEGLAMPAD.COM
"Alex Papachristidis gathers his dazzling interiors and popular, Insta-famous tablescapes for The Elegant Life. (Holiday Book Pick)" —ELLE DECOR