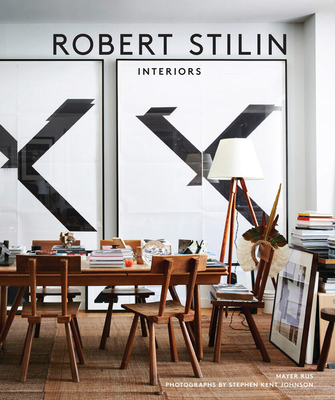 Robert Stilin: Interiors
Publication Date:
October 8th, 2019
Description
The first profile of acclaimed designer Robert Stilin, named as one of Elle Decor's top 25 A-list designers every year since 2010 and in the Architectural Digest 100 list of top interior designers in 2016 and 2018, and his handsome, tailored interiors
 
The interiors of New York- and Hamptons-based designer Robert Stilin are renowned for their strong, clean lines; warm, rich palette; antique and vintage furnishings; and custom upholstery—frequently combined with modern and contemporary art. Fifteen of his finest projects are featured in this lushly illustrated volume. They range from city townhouses, apartments, and lofts to beach houses and country abodes.
 
Whether the architecture is traditional or ultramodern, Stilin's interiors exude a casual, comfortable elegance that he expertly tailors to the specific needs and taste of each client.
 
" . . . it's clear that no matter the curveball, Stilin remains 'calm, cool, collected . . ." —ADPro
 
Over 200 color illustrations throughout
 
About the Author
Robert Stilin has run his own design firm for over 25 years. His work has been featured in Architectural Digest, Elle Decor, House Beautiful, W, and Hamptons Cottages and Gardens, as well as in design books, including The Big Book of the Hamptons. An avid art collector, he is a member of the Director's Council at the Whitney Museum of American Art. Mayer Rus is the West Coast editor of AD. He has been the design and culture editor of the Los Angeles Times, the design editor of House & Garden, and editor of Interior Design. Stephen Kent Johnson is an interiors, travel, and food photographer.
 
Praise for Robert Stilin: Interiors
"Acclaimed New York designer Robert Stilin creates tailored spaces with clean lines, standout art and rich accents of color. His new book is a cross-section of 15 of his best projects."
— House & Home
"The rooms that Robert Stilin creates for his clients are like no others. . . . The door is open in this book to his best works to date." —Milieu 
— Milieu
"The acclaimed New York designer created tailored spaces with clean lines, standout art and rich accents of color. This book is a cross section of 15 of Robert's best projects."
— House & Home
"Given the elegant results that fill the volume, it's clear that no matter the curveball, Stilin remains 'calm, cool, collected"—which happens to be the name of the first chapter."
— ADPro
"He's been crafting elegant, supremely comfortable interiors for 30 years, but Robert Stilin's work has never been the subject of a book—until now. Robert Stilin: Interiors offers a look at 15 of the houses and apartments he has designed around the country."
— 1stDibs/Introspective
"In the Hamptons-based designer Robert Stilin's first book there is no shortage of stylish projects. . . . ranging from urban apartments and townhouses to beach and country homes. Each mixes clean, crisp architecture with antique and vintage furniture amid works of modern and contemporary art."
— Elle Decor