Discounted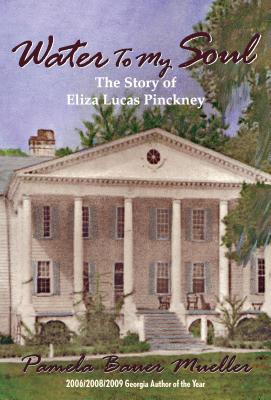 Water To My Soul: The Story of Eliza Lucas Pinckney
Previous price:

$22.00
Current price:

$18.00
Publication Date:
January 1st, 2012
Publisher:
Pinata Publishing
Righton Books
On hand, as of Mar 26 6:51pm
(Local Interest )
On Our Shelves Now
Description
Teen-aged Eliza Lucas, better suited for the drawing rooms at Drayton Hall than the sun-baked fields of Wappoo Plantation, fought and overcame grief, treachery and an impossible love.  Indefatigable in purpose and energy, she was able to provide the struggling new colonies in a critical time with a staple crop—indigo—saving the faltering economy and bracing it for the battle for sovereignty.  Her strong will and streak of independence extended beyond the business world and into her personal life.
With her successful cultivation of the indigo plant, Eliza Lucas Pinckney changed the economy of the  colonies, making her mark on the agricultural industry, southern society and the Crown of England.  Based on her rich letters and eloquent journals, this true story reveals the perseverance, independence and true grit that sustained this colorful woman's journey to a better future for herself, her family, her society and our fledgling democracy.
About the Author
Pamela Bauer Mueller was raised in Oregon.  She has worked as a flight attendant, commercial model and actress, English and Spanish teacher and a U.S. Customs Inspector.  She now lives on Jekyll Island Georgia with her husband Michael and their cats Sukey Spice and Morgan Maurice.
Pamela's children and young adult books have awarded her the 2006/2008and the 2009Georgia Author of the Year titles, three Mom's Choice and Children's Choice gold medals, the Independent Publisher Gold Book awards and other national awards with Writer's Digest and ForeWord magazines.  In her sixth historical novel, she introduces us to two female Civil War spies, Antonia Ford and Pauline Cushman, and their true stories of deep patriotism, deception and duplicity.
Praise for Water To My Soul: The Story of Eliza Lucas Pinckney
"Once again, with keenness of insight and perception previously unrevealed in historical novels of this period, Pamela Bauer Mueller provides us with an enlightening glimpse into the world of an exceptional woman in colonial America.  Eliza Lucas Pinckney's story offers an illuminating awareness of the unique culture of indigo planting, while also presenting an intimate perspective of everyday life in colonial Charles Town and its low country environs.  Not only is this an educational story of a remarkable 18th century woman with extraordinary courage, skill and grit, but it is also an absolute delight to read!" — Buddy Sullivan, Coastal Georgia Historian, Award Winning Author