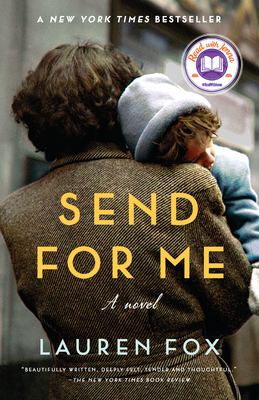 Send for Me: A novel
Publication Date:
September 7th, 2021
I was deeply moved by this beautifully written and fascinating novel about four generations of Jewish women, based on a series of letters written by Fox's great-grandmother in Germany to her grandmother in Milwaukee between 1938 and 1941. Annelise leaves Germany with her husband and child at the cusp of World War II and emigrates to Milwaukee, where a new life awaits. But she leaves behind her parents, who desperately wait for visas to join her. Memories play a deep part in the novel, as do the (sometimes) rocky relationships between mothers and daughters. I'm sure that this excellent novel will find a place on many reading group lists.
February 2021 Indie Next List
A really beautiful addition to WWII fiction about the heartbreaking truth of separating families and the bonds between mothers and daughters.
Winter 2022 Reading Group Indie Next List
Description
A NEW YORK TIMES NOTABLE BOOK • NEW YORK TIMES BESTSELLER • An achingly beautiful work of historical fiction that moves between Germany on the eve of World War II and present-day Wisconsin, unspooling a thread of love, longing, and the powerful bonds of family. • A TODAY SHOW #ReadWithJenna BOOK CLUB PICK!
Based on the author's own family letters, Send for Me tells the story of Annelise, a young woman in prewar Germany. Growing up working at her parents' popular bakery, she's always imagined a future full of delicious possibilities. Despite rumors that anti-Jewish sentiment is on the rise, Annelise and her parents can't quite believe that it will affect them; they're hardly religious. But as she falls in love, marries, and gives birth to her daughter, the dangers grow closer. Soon Annelise and her husband are given the chance to leave for America, but they must go without her parents, whose future and safety are uncertain. 
Two generations later in a small Midwestern city, Annelise's granddaughter, Clare, is a young woman newly in love. But when she stumbles upon a trove of the letters her great-grandmother wrote from Germany after Annelise's departure, she sees the history of her family's sacrifices in a new light, leading her to question whether she can still honor the past while planning for her future.
Praise for Send for Me: A novel
A NEW YORK TIMES NOTABLE BOOK OF THE YEAR • An Indie Next Great Read • A Parade Best Releases of the Year
"Beautifully written, deeply felt, tender and thoughtful."
—The New York Times Book Review

"Incandescent. . . . Send for Me reads like a memoir but has the kind of intimate detail born in the imagination of a novelist at the top of her game."
—People
"An artfully constructed and richly absorbing novel that shows how love is strengthened, not weakened, over distance and time."
—Minneapolis Star Tribune
"A richly imagined, lyrically written story."
—NPR
"Imbued with lyrical prose, Send for Me is a beautiful tale of heartbreak and renewal, and of the love and loss we carry with us, generation after generation."
—Georgia Hunter, author of We Were the Lucky Ones
"Page after page of Send for Me shines with the author's brilliant prose. . . . Fox has written a book you will not soon forget."
—The Florida Times-Union
 
"Send for Me is a rare and beautiful novel. I loved this book."
—Christina Baker Kline, author of Orphan Train

"Resonates long after its final pages. . . . Its beautifully rendered vignettes are, in essence, about 'the fraying wire' that connects us to the past."
—The Anniston Star
 
"Extraordinarily nuanced and moving. . . . Fox elegantly incorporates lines and short excerpts of her own great-grandmother's letters, adding to the power and intimacy of this fine novel."
—The National Book Review
 
"Subtle, striking, and punctuated by snippets of family letters. . . . An intimate, insightful, intricately rendered story of intergenerational trauma and love."
—Kirkus Reviews (starred review)