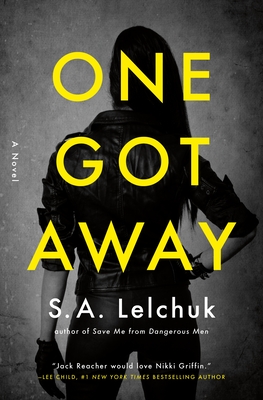 One Got Away: A Novel (Nikki Griffin #2)
Publication Date:
January 11th, 2022
Publisher:
Flatiron Books
Description
"Nikki Griffin is one spectacular heroine…One Got Away is one seriously entertaining read." —USA Today
Private investigator Nikki Griffin is on a case.
The reclusive matriarch of one of San Francisco's wealthiest and most private families has been defrauded by a con-man, and her furious son enlists Nikki to find the money. And find the con-man, Dr. Geoffrey Coombs.
Nikki isn't a fan of men who hurt people. Quietly running her used bookstore by day, her secret mission, born of revenge and trauma, is to do everything she can to remove the innocent from dangerous situations—and punish the men responsible.
It seemed like a simple job, but as Coombs leads Nikki on a trail littered with deceptions, she realizes that he's not the only one lying: no one involved is telling her the truth.
As Nikki draws closer to Coombs and learns more about who he really is, she is taken aback to realize that she is starting to enjoy the chase—and that the two of them might share more in common than she would like to admit.
But while she closes in on Coombs, others are looking for him, too. As Nikki glimpses secrets that powerful people want to remain hidden, she begins to suspect that lives are in peril.
From breathtaking cliffside resorts to the shady underworld of stolen cars, from drug-filled trailers to the city's loftiest penthouses, Nikki slowly uncovers the deep rot at the center of the case. She is forced to make terrible choices about who to help—and how to keep herself alive.
If she can fit the pieces together in time, she just might be able to save them all.
PI Nikki Griffin – a badass bookseller who punishes abusers – is back in S. A. Lelchuk's One Got Away…
Praise for One Got Away: A Novel (Nikki Griffin #2)
"A fast-paced and frenzied thriller that will keep [readers] guessing right up until the end… The author does a great job at making seemingly random events come together in a way that does not feel last-minute or hastily put together… In short, Nikki Griffin is one spectacular heroine…and Lelchuk's One Got Away is one seriously entertaining read."
—USA Today

"There will be kidnappings, blackmail and twists…Lelchuk delights in showing just how shady everyone turns out to be."
—New York Times Book Review
"With cliff-hanging chapters and a plot that rushes and weaves like a roller coaster, Lelchuk's writing holds a tight grip from start to finish…Overall, One Got Away treats readers to a thrilling story that unwraps just like Highway 1, winding and bending, simultaneously enchanting and disenchanting readers with the beauty and darkness that coexist, in the state and in life."
—L.A. Review of Books
"Rollicking...This breakneck-paced thriller...is unapologetically bloody fun." —Publishers Weekly
"Bookseller/private detective Nikki Griffin lands in hot water when she takes on a wealthy new client...The nearly fearless and deeply empathetic Nikki is ridiculously easy to root for, and the pace is fast and furious all the way to a deeply satisfying finale. A smashing sequel. More please." —Kirkus Reviews
"One Got Away is a delightfully complicated mystery, one that constantly keeps readers --- much like Nikki herself --- on their toes."
—Bookreporter.com
"Fans of the first book or of hard-boiled women detectives in general will relish this heroine's latest outing, especially given that Lelchuk's writing is more nuanced and atmospheric than that found in hard-boiled mysteries of old. Those who followed...TV's Dexter are another audience... A fine choice for mystery collections." —Booklist
Praise for Save Me From Dangerous Men
"Action packed and razor sharp - Jack Reacher would love Nikki Griffin."
—Lee Child, #1 New York Times bestselling author of Past Tense
"Save Me from Dangerous Men is one of those rare thrillers that draws you in so relentlessly that you find yourself getting kicked out of bed and reading all night on the sofa. If you're a fan of Jack Reacher or Lisbeth Salander, you are gonna love Nikki Griffin. This is an outstanding debut novel to what promises to be an exceptional series. Highly, highly recommended."
—Douglas Preston, #1 New York Times bestselling co-author of the acclaimed Pendergast series
"Save Me From Dangerous Men pulses with daring and risk. Nikki Griffin, bookseller by day and private investigator by night, takes on men who hurt women and makes them sorry. Calm, complex, lethal, and fascinating, she's the revenge fantasy you want right now."
—Taylor Stevens, New York Times bestselling author of Liars' Paradox