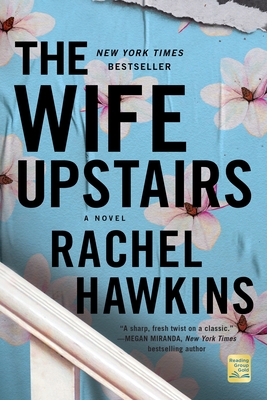 The Wife Upstairs: A Novel
Publication Date:
November 2nd, 2021
Publisher:
St. Martin's Griffin
Righton Books
On hand, as of Nov 27 12:41pm
(Fiction )
On Our Shelves Now
This modern reimagining of Jane Eyre tells the story of Jane, a young woman with a secretive past living under an assumed name who works as a dog walker in a luxurious subdivision of Birmingham, Alabama, and has a penchant for stealing from her wealthy employers. When she meets the charming, rich, and recently widowed Eddie Rochester, who has his own dark secrets, they begin a whirlwind romance. But what really happened to Eddie's first wife, the glamorous, self-made millionaire Bea? Told from multiple points of view, this twisty, suspenseful take on a classic novel is perfect for fans of domestic thrillers.
January 2021 Indie Next List
Description
Instant New York Times and USA Today Bestseller

"Compulsively readable...a gothic thriller laced with arsenic." ––EW
One of the Most Anticipated Books of 2021: CNN • Newsweek • Vulture • PopSugar • Parade • BuzzFeed • E!Online • TimeOut • Woman's Day • Goodreads • She Reads • Good Housekeeping • CrimeReads • Frolic • Hello! • Mystery and Suspense
January 2021 Indie Next Pick and #1 LibraryReads Pick
A delicious twist on a Gothic classic, The Wife Upstairs pairs Southern charm with atmospheric domestic suspense, perfect for fans of B.A. Paris and Megan Miranda.
Meet Jane. Newly arrived to Birmingham, Alabama, Jane is a broke dog-walker in Thornfield Estates––a gated community full of McMansions, shiny SUVs, and bored housewives. The kind of place where no one will notice if Jane lifts the discarded tchotchkes and jewelry off the side tables of her well-heeled clients. Where no one will think to ask if Jane is her real name.
But her luck changes when she meets Eddie Rochester. Recently widowed, Eddie is Thornfield Estates' most mysterious resident. His wife, Bea, drowned in a boating accident with her best friend, their bodies lost to the deep. Jane can't help but see an opportunity in Eddie––not only is he rich, brooding, and handsome, he could also offer her the kind of protection she's always yearned for.
Yet as Jane and Eddie fall for each other, Jane is increasingly haunted by the legend of Bea, an ambitious beauty with a rags-to-riches origin story, who launched a wildly successful southern lifestyle brand. How can she, plain Jane, ever measure up? And can she win Eddie's heart before her past––or his––catches up to her?
With delicious suspense, incisive wit, and a fresh, feminist sensibility, The Wife Upstairs flips the script on a timeless tale of forbidden romance, ill-advised attraction, and a wife who just won't stay buried. In this vivid reimagining of one of literature's most twisted love triangles, which Mrs. Rochester will get her happy ending?
Praise for The Wife Upstairs: A Novel
"A Southern Gothic twist on Jane Eyre that's full of suspense, twists and turns...the story of this twisted love triangle will have you on the edge of your seat all the way until the end." ––CNN
"A delightfully surprising and suspenseful twist on Jane Eyre."––Newsweek
"Consider us enthralled." ––The Skimm
"A clever page-turner...this modern Gothic novel proves that creaky houses that harbor big secrets never go out of style." ––Oprahmag.com
"A delicious thriller that you'll likely want to read in a single sitting." ––TimeOut
"Thesis: Any thriller that has the word "wife" in the title is going to be good. And proof comes courtesy of Hawkins' modern retelling of Jane Eyre, which is the year's first irresistible page-turner that will keep you up at night." ––E! Online
"What would have happened if Jane Eyre had not been a naïve innocent with a heart of gold? Grab this page-turner and find out." ––Vulture
"A thrilling, suspenseful tale of will-they-or-won't-they that will keep you on the edge." ––Woman's Day
"Read to find out whether either of them can ever escape their secrets, or if their forbidden tryst is doomed to failure." ––Good Housekeeping
"With an even darker twist, this novel delivers a one-of-a-kind take on a well-known gothic tale. In addition to the suspenseful story line, the distorted love triangle and the impassivity of the Thornfield residents will have readers feeling simultaneously discombobulated and fulfilled."––Library Journal (starred review)
"The Wife Upstairs is a thrill ride [and] the pace is hurtling...I felt implicated, dubious, off-kilter as I navigated this elaborate masque of a story." ––Southern Review of Books
"This compelling retelling of Jane Eyre deftly serves up a delicious mystery with a side of biting social commentary." ––Shelf Awareness
"When I say I couldn't put down The Wife Upstairs by Rachel Hawkins, I mean that I read it on my lunch break, while working out, instead of sleeping. It is seriously that good."––PopSugar
"An inspired riff on the gothic classic." ––Goodreads
"...this suspenseful domestic thriller will keep readers turning pages." ––Publishers Weekly
"Hawkins twists together the suspense and storytelling of Jane Eyre with the atmosphere, tension, and odd characters of a Southern-gothic into a tale of a young woman trying to escape her past...an altogether sinister novel that will make readers of Jennifer McMahon, Ruth Ware, and Donna Tartt shudder." ––Booklist
"A feisty Southern charmer that's twisty enough to make dinners late in kitchens everywhere...a modern, rip-roaring thriller best enjoyed on a sandy beach with a tall, salty-rimmed beverage nearby." ––Atlanta Journal-Constitution
"Expect the forbidden romance you loved in the original tale with all the modern, shiny trimmings." ––MarieClaire.com
"...chances are you'll fly through 'The Wife Upstairs' both because you're intrigued by the unfolding story itself and because you're putting together all the nods to its inspiration, Charlotte Bronte's 'Jane Eyre.'"––St. Louis Post-Dispatch
"A great beach read."––Austin American-Statesman
"Get ready for a lightning-fast read with familiar characters in an altogether unfamiliar setting." ––Minneapolis Star-Tribune
"Hawkins delivers a sharp, fresh twist on a classic in this darkly funny, suspenseful story of murder, ambition, and love. Creepy and fast-paced, The Wife Upstairs kept me on the edge of my seat from the first page to the very last." ––Megan Miranda, New York Times bestselling author
"I was completely blown away by The Wife Upstairs. This is a compulsive, irresistible retelling of Jane Eyre with a modern, noir twist – and wow, does it work." ––Samantha Downing, USA Today bestselling author
"The Wife Upstairs is everything I'd hoped--sharp, smart, tricky and fast-paced. Rachel Hawkins' debut thriller puts you in the steps of an outsider, an insider, and an imposter, but which is which? You won't know til you're up way too late turning the final pages." ––Kelly Harms, nationally bestselling author of The Overdue Life of Amy Byler