New Release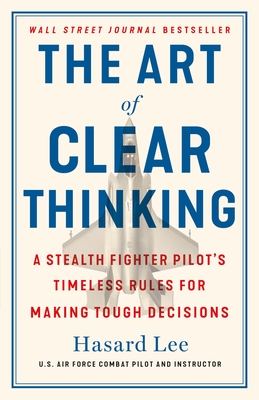 The Art of Clear Thinking: A Stealth Fighter Pilot's Timeless Rules for Making Tough Decisions
Publication Date:
May 23rd, 2023
Publisher:
St. Martin's Press
Righton Books
On hand, as of May 30 8:51pm
(Business/Economics )
On Our Shelves - Available for Immediate Pickup or Shipping
Description
Based on a career of making high-stakes, split-second decisions as a U.S. fighter pilot, The Art of Clear Thinking teaches readers to apply Hasard Lee's combat-tested techniques in everyday life.
The training to become a fighter pilot is among the most competitive and difficult in the world with fewer than one in a thousand succeeding. Pushing a cutting-edge jet to its limits at over 1,000 mph means that every split-second decision can have catastrophic consequences. This extreme environment has forged a group of warriors who for the last fifty years have been considered at the apex of decision-making theory and practice.
In The Art of Clear Thinking, Hasard Lee distills what he's learned during his career flying some of the Air Force's most advanced aircraft. With gripping firsthand accounts from his time as a fighter pilot and fascinating turning points throughout history, Hasard reveals powerful decision-making principles that can be used in business and in life, including:
• HOW TO LEARN BETTER AND FASTER
• CULTIVATING MENTAL TOUGHNESS
• DEVELOPING THE SKILLS TO QUICKLY ASSESS, CHOOSE, AND EXECUTE
• AND MUCH, MUCH MORE
Hasard has used and taught these techniques across the full spectrum of human endeavors and proven their effectiveness in both the cockpit and the boardroom. Those who have already benefited include CEO's, astronauts, CIA agents, students, parents, and many others. The Art of Clear Thinking is a book that will change how you interact with the world around you.
Praise for The Art of Clear Thinking: A Stealth Fighter Pilot's Timeless Rules for Making Tough Decisions
"The Art of Clear Thinking pulls you in like the G-forces of a fighter jet. Entertaining and profound, Hasard takes you on a heart-pounding journey through life-or-death stories woven with the critical, decision-making tips taught to elite fighter pilots. This book will sharpen your ability to stop, see clearly, and make the key choices that may change the entire course of your future." —Harvey, Karp, MD, FAAP, CEO, Happiest Baby, Inc., Author
"Hasard's great service with this book is to put the reader in the seat of the 5th generation fighter pilot, the world's foremost laboratory for high pressure, high consequence human decisions, and then share their sophisticated and proven decision insights in an easy to read and apply manner. All with stories that take place at Mach speed and will have you turning the page. As someone who spent decades leading special operations, pursuing high-risk sports like BASE jumping and speedflying but also as a business entrepreneur, I've incorporated Hasard's incredibly valuable decision-making tools into the complex world I experience daily, and you will too." —Dan Schilling, Lt. Col. USAF (ret.), Black Hawk Down veteran, Guinness world record extreme athlete, and New York Times bestselling author
"As a former fighter pilot with two tours in Vietnam, I loved this book. For over a hundred years aerial combatants have shared their death defying stories. The examples Hasard shares, though, are more than simply exciting flying stories. When he describes rolling in with his gun and raining down 100 rounds per second on the bad guys to save U.S. lives, it's not simply for braggadocio. It helps readers learn about resourcefulness and planning when lives are on the line. And it also helps the executive to deal with adversity in a fluid situation where millions of dollars are at stake in the C-Suite. This book is replete with examples from aviation and industry that will help you to make better decisions. I relished reading this book and wholeheartedly recommend it without reservation." —George Nolly, 315 combat missions over Vietnam, 24 Air Medals and 3 Distinguished Flying Crosses, last pilot to complete 100 missions over North Vietnam, Author
"This book brought me right back to my days flying fighters, but also to my time in space. I couldn't put it down. Even more than the heart-pounding fighter pilot stories, Hasard has some powerful and practical words of wisdom for any leader, on Earth or in space!" —Terry Virts, NASA Astronaut, International Space Station Commander, Test Pilot, Author
"As a former CIA intelligence officer, I place a premium value on processes that enable you to make quick decisions—to manage chaos, mitigate risk, and employ sound judgment under the most stressful conditions. In Hasard's book, we learn from the best—an F-35 fighter pilot and trainer—the intricacies of how to make sound decisions on the fly. Decision-making is such a critical life skill, yet one rarely taught to the general public, until now. Hasard's well-honed decision-making process can transform your operations and output, giving you the advantage in a world full of uncertainty and risk." —Michele Rigby Assad, Former undercover CIA agent, Author
"Strap in and hold on as Hasard Lee lights the afterburner on leadership and risk management under extreme pressure. The Art of Clear Thinking is a riveting read, full of instantly actionable advice—not just for high-stakes decisions, but also for handling everyday choices at work and home." —Scott Parazynski, 5x NASA shuttle Astronaut, Astronaut Hall of Fame, credited with saving the Space Station during STS-120, Physician, Inventor, Tech CEO, Author
"Hasard's book will be transformative for artists, business people and creative entrepreneurs of all backgrounds. As an artist, I've witnessed how true creativity is forged from crucible moments, and Hasard is an expert on this topic. His stories paint vivid visuals of split second life & death decisions. They transport you into the cockpit of a full-throttle F-35 fighter jet galloping across the sky at 1,200 mph, when every minor mistake or deviation could end in a fiery oblivion. Do you have the strength to handle such stress? Most human beings would quickly crumble into fine Sonoran desert sand. Luckily for you, Hasard can be your coach and guide with this book—page by page, generously sharing his hard-earned secrets, and making you stronger, more confident, faster, wiser." —Drue Kataoka, Artist, technologist, Creator of the first art exhibit in space, CEO of Drue Kataoka Studios, Clubhouse Icon with 750k+ followers
"Flying a hundred million dollars worth of state secrets over enemy territory at more than a thousand miles per hour takes a lot of guts, but most people don't realize that just getting there, climbing into that cockpit, takes a huge amount of trust. Fighter pilots don't have the benefit of direct oversight, they have to make critical decisions in fractions of a second, using only the information at hand, and the stakes can often be higher than just life or death. One bad decision behind the stick of an advanced fighter, and you could throw your entire nation into conflict.
But this book from F-35 pilot Hasard Lee demonstrated with crystal clarity that making the right call isn't a matter of chance, it's a matter of process. It doesn't matter if you're flying a combat mission over Iraq or you're taking a Zoom meeting from your home office, Hasard's methodical approach to assessing your options, making a call, and owning your outcomes will have you thinking like a fighter pilot, and making mission like one too. Born out of scientific analysis, real combat experience, and fighter pilot culture, Hasard pulls the decision-making skills that make a fighter pilot out of the cockpit and places them in your hands, providing real-world examples from his experiences flying America's most advanced jets alongside practical examples of these same principles being leveraged in far more grounded business and commercial settings. Aviation lovers will revel in Hasard's first-accounts of flying incredible aircraft, but literally everyone can benefit from this crash course in decision making." —Alex Hollings, Editor-in-Chief of Sandboxx News (1M+ monthly active visitors)