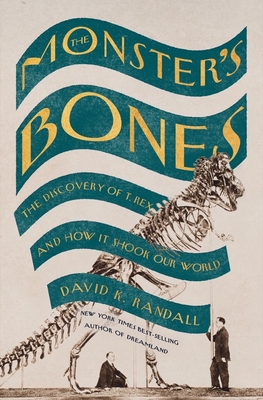 The Monster's Bones: The Discovery of T. Rex and How It Shook Our World
Publication Date:
June 7th, 2022
Publisher:
W. W. Norton & Company
Description
One of Smithsonian Magazine's Ten Best Books of 2022
A gripping narrative of a fearless paleontologist, the founding of America's most loved museums, and the race to find the largest dinosaurs on record.
In the dust of the Gilded Age Bone Wars, two vastly different men emerge with a mission to fill the empty halls of New York's struggling American Museum of Natural History: Henry Fairfield Osborn, a privileged socialite whose reputation rests on the museum's success, and intrepid Kansas-born fossil hunter Barnum Brown.
When Brown unearths the first Tyrannosaurus Rex fossils in the Montana wilderness, forever changing the world of paleontology, Osborn sees a path to save his museum from irrelevancy. With four-foot-long jaws capable of crushing the bones of its prey and hips that powered the animal to run at speeds of 25 miles per hour, the T. Rex suggests a prehistoric ecosystem more complex than anyone imagined. As the public turns out in droves to cower before this bone-chilling giant of the past and wonder at the mysteries of its disappearance, Brown and Osborn together turn dinosaurs from a biological oddity into a beloved part of culture.
Vivid and engaging, The Monster's Bones journeys from prehistory to present day, from remote Patagonia to the unforgiving badlands of the American West to the penthouses of Manhattan. With a wide-ranging cast of robber barons, eugenicists, and opportunistic cowboys, New York Times best-selling author David K. Randall reveals how a monster of a bygone era ignited a new understanding of our planet and our place within it.
Praise for The Monster's Bones: The Discovery of T. Rex and How It Shook Our World
[An] entertaining, skillfully told history of Gilded Age fossil-hunting... Randall expertly captures the poisonous mix of personal ambition, ruthlessness, big money and nationalist zeal that drove it.
— Christoph Irmscher - Wall Street Journal
David K. Randall brings alive that swashbuckling time at the turn of the 20th century, when dinosaurs were still a relatively new concept... [He] combines his journalist's eye for details with a storyteller's flair for spectacle. His tale is as rollicking as a Western—and in many senses, it is one... Along the way, Randall grapples with a profound question: Should fossils be treated as commodities?
— Steve Brusatte - Atlantic
Randall successfully writes the human story behind the discovery of dinosaurs; a book that will delight readers of science and history.
— Library Journal (starred review)
Exciting as any action tale, The Monster's Bones shares the human stories behind some of history's most thrilling fossil discoveries.
— BookPage
[A] colorful adventure saga... [Randall] astutely analyzes the T. rex's place in popular culture while maintaining that the most important lesson to be learned from the dinosaur's 'fearsome reign' on Earth may be that 'the climate always wins.' Paleontology buffs will thrill to this vibrant, treasure-filled account.
— Publishers Weekly
Astute and entertaining... Randall carefully outlines the shifts in scientific understanding prompted by the appearance of [the T. Rex], and he makes a persuasive case for its profound impact on our conception of the history of life on Earth... An absorbing account of early dinosaur discoveries and their cultural legacies.
— Kirkus Reviews
The Monster's Bones is such an irresistibly good read and such a compellingly smart book. David Randall takes his tale of fossil-hunting and museum building and deepens it into something more—a story in which both the long-vanished dinosaurs and the humans who discover them are equally dangerous in their own unique ways.
— Deborah Blum, best-selling author of The Poisoner's Handbook
A spectacular yarn of science and adventure, The Monster's Bones takes us back to the birth of paleontology, when a Kansas farm boy made the find of a century—and a wealthy racist in New York tried to exploit it. Randall has excavated a classic, a story every bit as big and head-spinning as the T. Rex at its center.
— Jason Fagone, best-selling author of The Woman Who Smashed Codes
Barnum Brown and T. rex, the dinosaur he literally exploded from the depths of time from remote Montana quarries, lie at the heart of David K. Randall's paleontological thriller that is a tell-all of how the man came to be, a fortuitous journey from a small town in Kansas to the halls of America's greatest natural history museum in New York. I read the volume spellbound... Readers are taken back in time to feel the grit and drama of the early fossil discoveries. And those stories serve to highlight the enduring promise of paleontology—the chance to be the next Barnum Brown.
— Paul Sereno, Ph.D., Paleontologist, University of Chicago