Preorder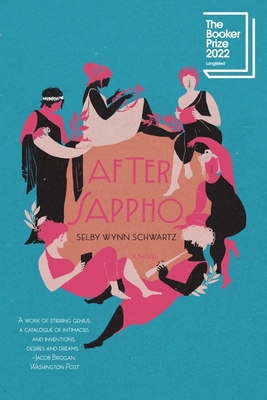 After Sappho: A Novel
Publication Date:
January 24th, 2023
Description
LONGLISTED FOR THE 2022 BOOKER PRIZE
An exhilarating debut from a radiant new voice, After Sappho reimagines the intertwined lives of feminists at the turn of the twentieth century.
"The first thing we did was change our names. We were going to be Sappho," so begins this intrepid debut novel, centuries after the Greek poet penned her lyric verse. Ignited by the same muse, a myriad of women break from their small, predetermined lives for seemingly disparate paths: in 1892, Rina Faccio trades her needlepoint for a pen; in 1902, Romaine Brooks sails for Capri with nothing but her clotted paintbrushes; and in 1923, Virginia Woolf writes: "I want to make life fuller and fuller." Writing in cascading vignettes, Selby Wynn Schwartz spins an invigorating tale of women whose narratives converge and splinter as they forge queer identities and claim the right to their own lives. A luminous meditation on creativity, education, and identity, After Sappho announces a writer as ingenious as the trailblazers of our past.
"This book is splendid: Impish, irate, deep, courageous. . . . Brava!"—Lucy Ellmann, author of Ducks, Newburyport
Praise for After Sappho: A Novel
[A] brilliant debut novel... The collective first-person "we" narrator—a Greek chorus devoted to the female poet Sappho—weaves the stories of writers, painters, and performers who, like Sappho, are attracted to women and are determined to become their authentic selves through art.... As the chorus narrates, 'we were plunged back into a history we had barely survived the first time.' Schwartz's account of what happens next as the central characters resist oppression speaks volumes on their efforts, and she contributes her own work of art with this irresistible narrative. Schwartz breathes an astonishing sense of life into her timeless characters.
— Publishers Weekly, starred review
After Sappho is a project of both imagination and intimacy, but also of significant research. Schwartz's protagonists are all real people, but she has captured the essence of their lives and identities by means of what she describes as 'speculative biographies'. One of the beauties of this strange, spellbinding novel – other, that is, than the dreamlike, pellucid writing – is this merging of fact and fiction, historical record and artistic vision.
— Lucy Scholes - The Telegraph
A highly original, practically uncategorisable novel... Sarah Bernhardt, Virginia Woolf, the Italian writer and lesbian Lina Poletti, plus a host of other lesser-known women who pushed against the conventions of the time — all are given fresh life in this entrancing choric collage of a novel which seems to speak both in one voice and in multitudes all at the same time... I loved it.
— Claire Allfree - Daily Mail