Staff Pick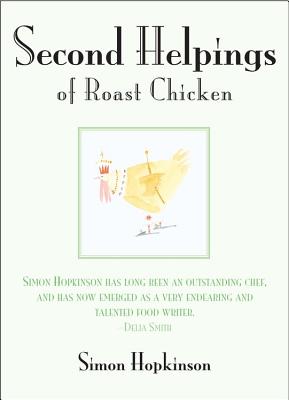 Second Helpings of Roast Chicken
Publication Date:
October 7th, 2008
Publisher:
Hachette Books
Description
In this follow-up to the smash sensation Roast Chicken and Other Stories, Simon Hopkinson re-creates his winning formula by taking forty-seven completely new favorite ingredients -- from apples to cocoa, lobster to truffles, and fennel to mint--and presenting an exotic array of tastes and ingredients from all over the world. His recipes, which have in common the love of good food prepared to please rather than simply impress, are drawn not only from classic French and British cooking but also from around the globe, from Austria to Thailand and India to Spain.
This exquisite compilation of recipes includes: Yorkshire Pudding with Sweet White Sauce and Golden SyrupPiedmontese Potato Gnocchi with Parmesan CreamThai Pork Rissoles with Sweet and Sour Dipping SauceCreamed Scampi with Saffron PilafAnd a new spin on his classic Roast Chicken recipe . . .Second Helpings of Roast Chicken is sure to please anyone seeking new and inspiring recipes in addition to more of Hopkinson's classic musings on food, which his fans have grown to adore.
About the Author
Simon Hopkinson was born and raised in Lancashire. From his first restaurant job at age seventeen, La Normandie restaurant, where he worked under the tutelage of Yves Champeau, he then moved to London to set up Bibendum (right) in Kensington with Sir Terence Conran, which he left to pursue his food writing. He has written an award-winning column for the Independent since 1995. He lives in London.
Praise for Second Helpings of Roast Chicken
Praise for Roast Chicken and Other Stories:
"Simon Hopkinson's Roast Chicken and Other Stories is a mouthwatering pleasure to read as well as to use. He's not only a great cook, he's also a great writer and the heir to Elizabeth David's legacy."—Jay McInerney
Praise for Roast Chicken and Other Stories:
"Among the most endearing and common-sensical kitchen primers ever composed. . . . You could cook from this volume, and this volume alone, for several years without boredom or mishap."—Dwight Garner, New York Times Book Review
Praise for Roast Chicken and Other Stories:
"Hopkinson is ravenous for wonderful food, and his appetite has produced a delicious, passionate book."—O, The Oprah Magazine
Praise for Roast Chicken and Other Stories:
"Roast Chicken" is one of those rare cookbooks that, once opened, becomes indispensable. . . . This is simple cooking at its best."—Aleksandra Crapanzano, New York Times Magazine
Praise for Roast Chicken and Other Stories:
"Simon Hopkinson has long been an outstanding chef, a passionate lover of good food, and has now emerged as a very endearing and talented food writer."—Delia Smith