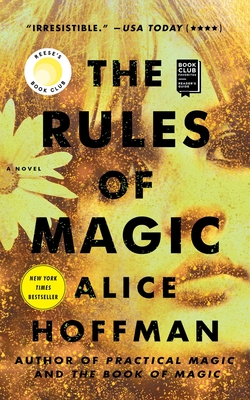 The Rules of Magic: A Novel (The Practical Magic Series #2)
This product is not returnable.
Publication Date:
June 26th, 2018
Publisher:
Scribner / Marysue Rucci Books
Righton Books
On hand, as of Nov 27 12:41pm
(Fiction )
On Our Shelves Now
In a dazzling, emotive prequel to her bestselling novel Practical Magic, Alice Hoffman brings the reader back into the world of the Owens family. The Rules of Magic takes us back two generations with practical Franny, who must learn how to love; sensitive Jet, who must learn how to persevere; and restless Vincent, who must learn how to be happy. Hoffman's writing is frank, tender, vivid, and elusive all at once. Full of sorrow and beauty and courage, The Rules of Magic is a delicious, satisfying read.
October 2017 Indie Next List
In The Rules of Magic, we follow the three Owens siblings through their teen years and as they become adults, through the turbulent 1960s and beyond. Their magical lineage causes their mother to issue many rules for them to live by (or break). One of the biggest prohibitions is falling in love—it never ends well. Alice Hoffman weaves love, family, and the events of the 1960s and '70s into a beautiful story. No matter what our gifts or our limitations are, love matters.
Winter 2018 Reading Group Indie Next List
Description
An instant New York Times bestseller and Reese Witherspoon Book Club pick from beloved author Alice Hoffman—the spellbinding prequel to Practical Magic.
Find your magic.
For the Owens family, love is a curse that began in 1620, when Maria Owens was charged with witchery for loving the wrong man.
Hundreds of years later, in New York City at the cusp of the sixties, when the whole world is about to change, Susanna Owens knows that her three children are dangerously unique. Difficult Franny, with skin as pale as milk and blood red hair, shy and beautiful Jet, who can read other people's thoughts, and charismatic Vincent, who began looking for trouble on the day he could walk.
From the start Susanna sets down rules for her children: No walking in the moonlight, no red shoes, no wearing black, no cats, no crows, no candles, no books about magic. And most importantly, never, ever, fall in love. But when her children visit their Aunt Isabelle, in the small Massachusetts town where the Owens family has been blamed for everything that has ever gone wrong, they uncover family secrets and begin to understand the truth of who they are. Yet, the children cannot escape love even if they try, just as they cannot escape the pains of the human heart. The two beautiful sisters will grow up to be the memorable aunts in Practical Magic, while Vincent, their beloved brother, will leave an unexpected legacy.
Alice Hoffman delivers "fairy-tale promise with real-life struggle" (The New York Times Book Review) in a story how the only remedy for being human is to be true to yourself. Thrilling and exquisite, real and fantastical, The Rules of Magic is "irresistible…the kind of book you race through, then pause at the last forty pages, savoring your final moments with the characters" (USA TODAY, 4/4 stars).
Praise for The Rules of Magic: A Novel (The Practical Magic Series #2)
PRAISE FOR THE RULES OF MAGIC BY ALICE HOFFMAN
**INSTANT NEW YORK TIMES BESTSELLER**
**OFFICIAL REESE WITHERSPOON BOOK CLUB PICK**
BEST FALL BOOKS SELECTION BY * PUBLISHERS WEEKLY * NEW YORK POST * POPSUGAR *
"Hoffman has conjured up another irresistible novel in The Rules of Magic. This is the kind of book you race through, then pause at the last 40 pages, savoring your final moments with the characters."—USA Today (4/4 Stars) 
"[T]his is a novel that begins with the words, 'Once upon a time,' and its strength is a Hoffman hallmark: the commingling of fairy-tale promise with real-life struggle. The Owens children can't escape who they are. Like the rest of us, they have to figure out the best way to put their powers to use."—New York Times Book Review
"In this prequel to Practical Magic, Hoffman, a master of magical realism, draws us back into the spellbinding universe of the Owens family with gorgeous prose set against a backdrop of vivid imagery."—Marie Claire
"The story unfolds in romantic and magical ways against the backdrop of 1960s, with the Stonewall riot, LSD in Central Park, Bob Dylan and Vietnam all making appearances. Hoffman will keep you guessing until the very end of the book how the Practical Magic generation fits in, a clever, heartbreaking finale." —Newsday
"Hoffman delights in this prequel to Practical Magic as three siblings discover both the power and curse of their magic. Hoffman's novel is a coming-of-age tale replete with magic and historical reference to the early witch trials. The spellbinding story, focusing on the strength of family bonds through joy and sorrow, will appeal to a broad range of readers. Fans of Practical Magic will be bewitched."—Publishers Weekly (starred review) 
"Hoffman weaves a spell….Readers who enjoy a little magic mixed in with their love stories…will relish this book." —Library Journal
"It's clear why Hoffman is a favorite for fantasy readers: She creates interesting mythologies; she's able to weave magic into the modern world; and she alludes to the magical properties of herbs and everyday items without overexplaining them and overcomplicating her narratives."—Bookpage
"Reading [The Rules of Magic] was like being caught in a current, floating along with a river's twists and turns, glimpsing familiarity and difference in varied measure before tumbling into something like the sea. I kept reading, not because I wanted to reach the end, but because I wanted to dwell in the honey-light of Hoffman's words. I wanted to hold these characters' hands... Hoffman's prose is as tender, dreamy and sweet as ever, laced with the sting of vinegar and broken glass."—NPR Books 
"Just in time for Halloween, Alice Hoffman brings us back to the world of the Owens family, whom we first met in Practical Magic. It's a world where magic exists and love is a curse. The Rules of Magic will transport you. An utter delight."—Popsugar (Best 2017 Fall Books) 
"[The Rules of Magic is] a novel readers didn't know they were waiting for until it arrived." —Bustle
"Reading an Alice Hoffman book is like falling into a deep dream where senses are heightened and love reigns supreme. The Rules of Magic is no exception—as I tumbled into the story of three siblings desperate for and cursed by love, I never wanted to awaken."—Jodi Picoult, New York Times bestselling author of Small Great Things
"No one's more confident or entertaining than Hoffman at putting across characters willing to tempt fate for true love. Real events like the Vietnam draft and Stonewall uprising enter the characters' family history as well as a stunning plot twist—delivering everything fans of a much-loved book could hope for in a prequel."—Kirkus Reviews