New Release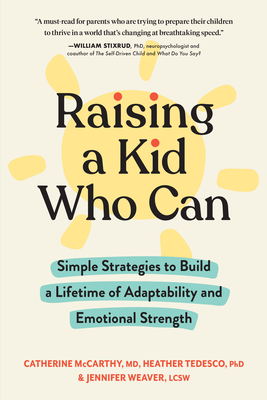 Raising a Kid Who Can: Simple Strategies to Build a Lifetime of Adaptability and Emotional Strength
Publication Date:
September 12th, 2023
Publisher:
Workman Publishing Company
Righton Books
On hand, as of Sep 21 11:11am
(Family/Parenting )
On Our Shelves - Available for Immediate Pickup or Shipping
Description
Three mental health professionals cut through the "parenting advice" noise with this accessible, easy-to-skim book filled with actionable strategies and tips to build a child's capacity to thrive where they are planted, in good times and bad.  
It's time to parent smarter, not harder. Filled with scientifically based and eminently actionable advice and strategies, Raising a Kid Who Can boils down the ten essential things that every child needs to thrive so that parents can stop drowning in information and get to the business of raising healthier, happier humans. Written by three mental health professionals who work with families, organized for easy skimming, and designed to be useful at any stage in a child's life, the book devotes one short, impactful chapter per principle, including Resilience, Attention and Self-Control, Psychological Flexibility, Self-Motivation, Compassion and Gratitude.  The result is a new approach to a parenting guide, one that takes a wholistic approach to nurturing a child's development and help parents get right to the information they need, when they need it.
Praise for Raising a Kid Who Can: Simple Strategies to Build a Lifetime of Adaptability and Emotional Strength
"It's a valuable guide for helping kids help themselves."—Publishers Weekly
"With insightful analysis and amusing anecdotes, McCarthy, Tedesco, and Weaver have written an accessible and well-researched book that gives parents extra guidance on child rearing by offering actionable tips."—Booklist
"A must-read for parents who are trying to prepare their children to thrive in a world that's changing at breathtaking speed." —William Stixrud, PhD, neuropsychologist and coauthor of The Self-Driven Child and What Do You Say?
"Wow! Grounded in the latest science and chock-full of practices that REALLY work, here is a book parents can turn to, again and again, whether their children are tots, teens, or young adults." —Ned Johnson, coauthor of The Self-Driven Child and What Do You Say?
"Rooted in the neuroscience and practical wisdom that shows us what truly matters for kids—balance, connection, compassion, resilience. It's a truly great addition to the world of parenting books." —Tina Payne Bryson, LCSW, PhD, coauthor of The Whole-Brain Child and No-Drama Discipline, and author of The Bottom Line for Baby
"This book is the book I've been waiting for . . . an incredibly valuable resource for parents and mental health professionals." —Alix Spiegel, co-creator of Invisibilia, producer of This American Life, and former science reporter for NPR
"Exactly the road map parents need to navigate the challenges of parenting in the modern era." —Eli R. Lebowitz, PhD, Director, Program for Anxiety Disorders, Yale School of Medicine Child Study Center, and author of Breaking Free of Child Anxiety and OCD
"I used to say there weren't any manuals for how to parent—until now. An entertaining and evidence-based guide to parenting in today's fast-paced, increasingly tech-saturated, mind-bogglingly complex, and busy wilderness." —Lisa Coyne, PhD, assistant professor of psychology, Harvard Medical School, and CEO, New England Center for OCD and Anxiety
"Conveys the critical topics of struggle and resilience in a genuinely accessible language. This book is a true golden nugget, and I wish every parent could read it." —Maria Svernell, clinical psychologist, Anna Freud National Centre for Children and Families
"Everything about this book speaks to any parent looking for sound, easy-to-read, science-based advice for raising emotionally healthy and resilient children." —Michael Houston, MD, clinical professor of psychiatry and pediatrics, Department of Psychiatry and Behavioral Science, George Washington University Medical Center
"This book is an excellent resource that will empower parents to talk their kids through challenging situations while giving them the autonomy they need to find solutions that work for them." —Angela Fletcher, PsyD, pediatric psychologist, Children's National Hospital, Washington, DC
"Empathic, encouraging, and accessible . . . [this book] provides a broader framework for equipping our children with the tools they need to thrive." —Matthew Biel, MD, MSc, professor and chief of child and adolescent psychiatry, Georgetown University Medical Center
"Compassionate, clear, knowledgeable, and easily accessible, this book . . . offers a real-life perspective on how to not only cope but also thrive as a family." —Dr. Holly Dwyer Hall, DPsych, child and adolescent psychotherapist, Anna Freud National Centre for Children and Families
"Distills the best science, developmental principles, and therapeutic technique into a readable and relatable guidebook." —Lois W. Choi-Kain, MD, MEd, Director, Gunderson Personality Disorders Institute, assistant professor of psychiatry, Harvard Medical School
"Crafted by caring, charismatic coaches, it is a must-have! The book is REALLY good. I am sure it will be cited for decades to come." —Alan J. Zametkin, MD, academic researcher specializing in child and adolescent psychiatry at National Institute of Mental Health (retired) and private practice, Bethesda, MD (current)