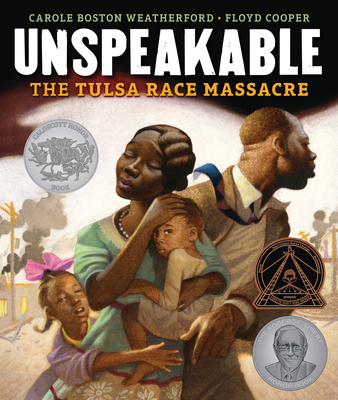 Unspeakable: The Tulsa Race Massacre
Publication Date:
February 2nd, 2021
Publisher:
Carolrhoda Books (R)
Ships in 1-3 Days
This item is not currently in stock at the store for pickup but we can order it for you. Please call for details.
Description
Longlisted for the National Book Award
A Kirkus Prize Finalist
A Boston Globe-Horn Book Honor Book
A must-have--Booklist (starred review)
Celebrated author Carole Boston Weatherford and illustrator Floyd Cooper provide a powerful look at the Tulsa Race Massacre, one of the worst incidents of racial violence in our nation's history. The book traces the history of African Americans in Tulsa's Greenwood district and chronicles the devastation that occurred in 1921 when a white mob attacked the Black community.
News of what happened was largely suppressed, and no official investigation occurred for seventy-five years. This picture book sensitively introduces young readers to this tragedy and concludes with a call for a better future.