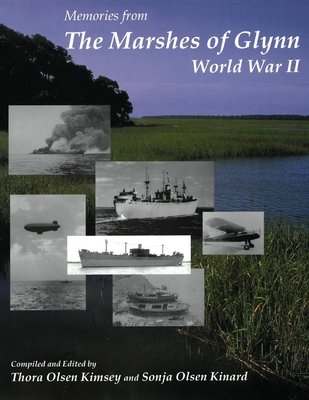 The Marshes of Glynn: World War II
Publication Date:
December 2nd, 2018
Righton Books
On hand, as of Feb 2 6:51am
(Local Interest )
On Our Shelves Now
Description
German U-boats lurked off the Atlantic coast, torpedoing American supply ships and depositing spies along the eastern seaboard. Blackouts were imposed. Sirens alerted citizens when air raids appeared eminent. The war reached Georgia's shores when two oil tankers were torpedoed within sight of St. Simons Island. Civilians rescued the survivors. Glynn County, Georgia, a quiet southern community, became a bee hive of war effort activities. Civilian volunteers manned airplane-spotting outposts. Women and men patrolled the beach at night until the military came. The governor of Georgia organized the Georgia Defense Corps. A shipyard was located in Brunswick to build Liberty Ships. Workers moved into the area by the thousands. World War II brought a radical change to this community. Individuals who lived in, came to or passed through during those years share their recollections in "Memories from the Marshes of Glynn: World War II."
About the Author
Sonja Olsen Kinard and her sister, Thora Olsen Kimsey grew up on St. Simons Island, Ga. and graduated from Glynn Academy High School in Brunswick, Ga. Their father, Olaf H. Olsen was a boat captain who shared with them his love of the sea. Thora attended Wesleyan Conservatory School of Music in Macon, Ga. and directed children's choirs for many years. The puppets she made entertained thousands of children and adults in churches, schools, and on "The Good Time Gang" television show in Atlanta. Thora died of cancer in 1999, four months before the first edition of "Memories from the Marshes of Glynn" WWII" came off the press. It was Thora's idea to write this book because their father was the one who rescued the survivors of the two oil tankers torpedoed off the coast of St. Simons Island, Ga. during World War II and still living were many who had experienced Brunswick and St. Simons during that period of time. Sonja graduated from Lenoir-Rhyne College and taught in parochial and public schools. Her published works include a story entitled "I Remember Cumberland with My Dad," which was published in Mary Miller's book "On Christmas Creek." She also published a book entitled "The Treasures of Boo-Ditch" which is about her growing up on St. Simons Island on Gascoigne Bluff with only one playmate who had spastic cerebral palsy.