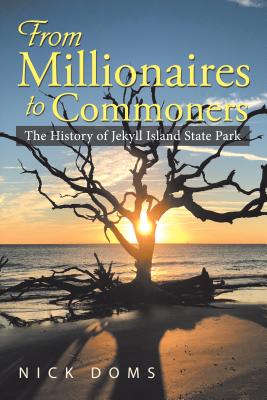 From Millionaires to Commoners: The History of Jekyll Island State Park
Publication Date:
March 1st, 2019
Righton Books
On hand, as of Feb 2 3:51am
(Local Interest )
On Our Shelves Now
Description
When Nick Doms first saw Jekyll Island State Park in October 2014, it was love at first sight. He was stunned to discover that all the history books suddenly ended with the demise of the island as a private retreat for wealthy families in the 1940s, as if there was nothing more to tell after Georgia acquired the land for a state park. The multitude of hotels, motels, picnic areas, roads, and trails certainly did not appear spontaneously, as if by the waving of a magic wand, and yet no one had told the story of how the island has become a state park that everyone can enjoy. The author took it upon himself to research the island's story to learn about the people who designed, constructed, and managed the enormous transformation. In this meticulously researched account, he tells the fascinating story of the island, sharing facts from history books, primary documents, and untold stories from locals who have lived on the land for several decades. Discover how a private, secluded, and exclusive island came to be a state park with open and affordable access to everyone.
About the Author
Nick Doms grew up in Belgium, where he initially studied nursing and medicine. He moved to Amsterdam in 1985 to pursue an MBA in international finance, which ultimately led to his career on Wall Street. He lived and worked in the United States of America, the United Kingdom, Japan, Australia, and Hong Kong until 2001 when he retired and moved to Savannah, Georgia, where he lives with his wife, Teolita. He is the author of four poetry books: Inspirational for a Day (2003); Colors (2005); I am, Ik ben, Ich bin, Je suis (2008); and Symbiosis (2008). From Millionaires to Commoners is his first nonfiction historical publication.