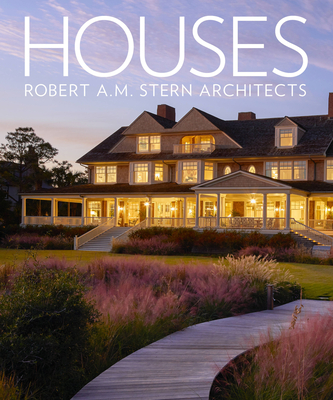 Houses: Robert A.M. Stern Architects
Publication Date:
January 19th, 2021
Publisher:
The Monacelli Press
Staff Reviews
We have been Bob Stern fans for decades and this latest book of residences is as good as they get. Stern homes, and NYC apartments, deservedly go for huge premiums, but this book costs less than the doorbell on a Stern house. You will be losing money if you don't buy it. 
Bizarrely, as I am writing this review, I realize my legs are resting on a stack of books. The second book in the stack is the last book in this series. Yes, we have them all. 
— Darryl
Description
For more than fifty years, Robert A.M. Stern Architects has designed extraordinary houses and residences around the world, each suffused with a rich understanding of traditional architecture and an intuitive sense of how to shape a home to the needs of modern life. Many of the firm's important early commissions were houses, and while RAMSA has since evolved into an internationally renowned firm with an extraordinarily broad portfolio, an unflagging dedication to timeless residential design has remained a cornerstone of the practice.
In Houses: Robert A.M. Stern Architects, RAMSA's residential Partners--Roger H. Seifter, Randy M. Correll, Grant F. Marani, and Gary L. Brewer--offer an intimate look at RAMSA houses from the last ten years and explore how these residences embody the spirit of place and find harmony between the traditional and the contemporary. A 424-page visual feast of rich, full-color photographs and elegant drawings, the book presents a selection of 17 homes that showcase RAMSA's mastery of diverse styles and highlight the firm's collaboration with leading interior designers, landscape architects, craftspeople, and builders from around the world.
Featured are a rambling oceanside retreat in East Hampton; a mountain penthouse in the Rocky Mountains; a lakeside cottage in the Midwest; an urbane Park Avenue apartment; an elegant Mediterranean Revival villa in Fort Lauderdale; and a house in Singapore in that city's distinctive "Black-and-White" style. Together, the homes epitomize the quality, craftsmanship, and undeniable presence that define every RAMSA residence. With every page, readers will gain a deeper understanding of how RAMSA's architects honor context and time-honored design principles while always looking to the future, infusing established tradition with fresh life and anticipating how each home will grow, change, and evolve over the years.
Praise for Houses: Robert A.M. Stern Architects
"When it comes to vertical living in New York City, few architects have as much name recognition as Robert A.M. Stern. His buildings, distinguished for their classic, elegant style and creamy limestone façades, are among the most sought-after in the city."
—Robb Report
"Anyone interested in a master class on traditional house design is sure to find HOUSES required reading."
—Traditional Building
"Houses: Robert A.M. Stern Architects is a long and thoughtful look at a wide range of work by Roger Seifter, Randy Correll, Grant Marani, and Gary Brewer."
—Ocean Home

"Houses [features] exquisite photography. . . . [a great] gift for the architecture aficionado on your list." 
—Architects + Artisans
"Robert A. M. Stern Architects creates classically influenced homes that reside firmly in the 21st century. . . . The projects [in the book] all exemplify the architects' thorough knowledge of architectural history and commitment to the desires of the people who inhabit them, an approach that has produced many repeat clients."
—1stdibs Introspective
"A new massive book."
—Bloomberg Pursuits
"Houses: Robert A.M. Stern Architects delves into the design processes, briefs, and interior finishes of 17 timeless homes."
—AD Pro