New Release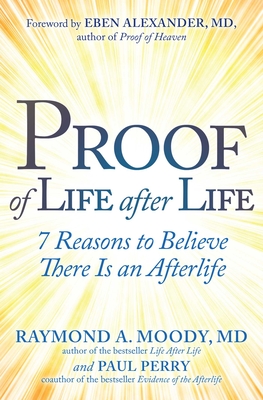 Proof of Life after Life: 7 Reasons to Believe There Is an Afterlife
Publication Date:
September 12th, 2023
Publisher:
Atria Books/Beyond Words
Righton Books
On hand, as of Sep 21 11:11am
(Mind/Body/Spirit )
On Our Shelves - Available for Immediate Pickup or Shipping
Description
A groundbreaking book that combines nearly fifty years of afterlife and near-death experience research to provide proof of the existence of the soul and life after death from psychiatrist and bestselling author of Life After Life, Dr. Raymond Moody and New York Times bestselling author Paul Perry.
After spending nearly five decades studying near-death experiences, Dr. Raymond Moody finally has the answer to humanity's most pressing question: What happens when we die?
In Proof of Life After Life, Moody and coauthor Paul Perry reveal that consciousness survives after the death of the body. Featuring in-depth case studies, the latest research, and eye-opening interviews with experts, Proof explores everything from common paranormal signs to shared-death experiences, and much more.
Praise for Proof of Life after Life: 7 Reasons to Believe There Is an Afterlife
"Proof of Life After Life offers a wide range of research from a variety of perspectives that leaves little question that an afterlife exists. Raymond Moody and Paul Perry each have spent decades investigating this topic thoroughly and diligently. The result is a rational and scientific look at one of the most enduring questions of humankind: Is there life after life? Be prepared to be convinced."
— Lisa Smartt, author of Words at the Threshold and cofounder with Dr. Raymond Moody of The Final Words Project
"The authors amass an impressively broad and vivid array of firsthand accounts…plenty of fodder for the curious to chew on."
— Publishers Weekly (06/06/23)
"This gem of a book by Dr. Raymond Moody and Paul Perry is an excellent resource filled with grounded research and case studies that provide further evidence of the eternal and expanded nature of the soul. As both a mental health therapist and near-death experiencer, I can attest to the significance of processing your Spiritual Transformative Experience with a knowledgeable, open, and well-versed clinician of spiritual phenomena. This book provides an excellent reference for professionals within the medical and mental health field to better support and understand paranormal encounters that occur within and beyond the body and mind."
 
— Jacob Cooper, LCSW, bestselling author of Life After Breath and The Wisdom of Jacob's Ladder
"This long-awaited book from the 'father of near-death studies,' and his long-time coauthor Paul Perry, presents irrefutable proof of life after death. Dr. Raymond Moody and Perry are pioneers in studying what happens when we die. In this book they document shared dying experiences which demonstrate that NDEs cannot just be hallucinations. Now they convincingly prove that consciousness survives death. Bravo, Raymond and Paul. Well done."
 
— Melvin Morse, MD, author of Closer to the Light
"I thought the study of near-death experiences (NDEs) was as far as afterlife studies could go, but this book far exceeds the study of NDEs with its exploration of shared death experiences, those rare but profound paranormal events that prove separation of body and mind. With Proof of Life after Life, Raymond Moody and Paul Perry have taken death studies to a new and more exciting level."
— Rajiv Parti, MD, author of Dying to Wake Up
"What happens when we die is one of humankind's most enduring questions. Proof of Life after Life brings a new and exciting perspective to this age-old question. Dr. Raymond Moody and Paul Perry are exceptionally qualified to write about life after death, coauthoring more than a dozen books on NDEs, including five New York Times bestsellers. Combined they have created this book, a groundbreaking sentinel event in providing proof for an afterlife. This vitally important book is profoundly informative and inspirational. Proof of Life after Life is exceptionally well written, easy to read, and enthusiastically recommended."
— Jeffrey Long, MD, author of the New York Times bestseller Evidence of the Afterlife
"If you've been on the fence wondering about the afterlife, you won't be there much longer after you read Proof of Life after Life. Raymond Moody and Paul Perry have presented a convincing presentation that we go on after our physical existence."
— George Noory, author of New York Times bestsellers
Journey to the Light and Talking to the Dead 
"Proof of Life After Life by Raymond A. Moody MD and Paul Perry is a superlative book that will establish a new and lasting paradigm in our understanding of what happens when (or after) we die. As a scientific researcher, I found the reasoning sound, and as a writer, the presentation polished and compelling. Lastly the book was comforting as I contemplate my own death and the fate of departed friends and family. Highly recommended."
— John C. Hagan III, MD, FAAO, FACS, editor of The Science of Near-Death Experiences and editor of the Missouri Medicine medical journal