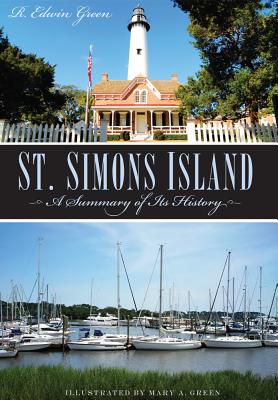 St. Simons Island: A Summary of Its History (Brief History)
Publication Date:
January 15th, 2001
Righton Books
On hand, as of Feb 2 6:51am
(Local Interest )
On Our Shelves Now
Description
South of Savannah, along the picturesque and historic coastline of Georgia, lies a group of barrier islands known as the Golden Isles.
This collection of coastal sea islands has attracted people--Native Americans, European settlers and vacationing sun-seekers--throughout history, for the islands' bountiful resources and appealing climate. Perhaps the brightest jewel of these islands is St. Simons Island. The History Press is proud to re-issue St. Simons Island: A Summary of its History, by local resident and historian R. Edwin Green. Mr. Green has compiled an informative volume, which highlights the unique and developing history of one of Georgia's most popular sea islands. Spanning over three hundred years of island history, Mr. Green brings to life the day-to-day toils of the Native Americans and their interaction with Spanish missionaries, the hardships faced by James Oglethorpe during the early colonial period, the rise and fall of the antebellum plantation society and the twentieth century with the start of St. Simons as a vacation and resort destination. With a keen eye for the details, which imparts the reader with a true understanding of the island's people and history, Mr. Green offers both the visitor and resident the historical foundation to enjoy all that St. Simons has to offer.