Staff Pick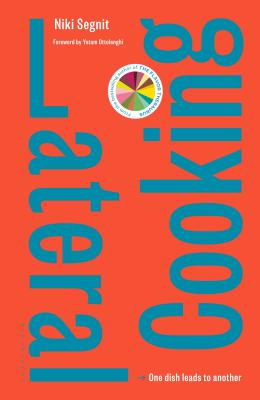 Lateral Cooking: One Dish Leads to Another
Publication Date:
November 5th, 2019
Publisher:
Bloomsbury Publishing
Staff Reviews
Three books in one: a historical and analytical treatise on cooking techniques, laugh-out-loud food writing from a personal perspective, and a cookbook that will give you a deep understanding of not just "how" but "why." On angel cake: "Half of the sugar is added, gradually, to form a billowing, shiny white mass, like a dowdy egg's extravagant daydream… When the cake is unfolded, its stippled, golden exterior makes it look like a lichen-covered fertility stone of great antiquity."
— Anne
Description
A groundbreaking handbook--the "method" companion to its critically acclaimed predecessor, The Flavor Thesaurus--with a foreword by Yotam Ottolenghi.
Niki Segnit used to follow recipes to the letter, even when she'd made a dish a dozen times. But as she tested the combinations that informed The Flavor Thesaurus, she detected the basic rubrics that underpinned most recipes. Lateral Cooking offers these formulas, which, once readers are familiar with them, will prove infinitely adaptable.
The book is divided into twelve chapters, each covering a basic culinary category, such as "Bread," "Stock, Soup & Stew," or "Sauce." The recipes in each chapter are arranged on a continuum, passing from one to another with just a tweak or two to the method or ingredients. Once you've got the hang of flatbreads, for instance, then its neighboring dishes (crackers, soda bread, scones) will involve the easiest and most intuitive adjustments. The result is greater creativity in the kitchen: Lateral Cooking encourages improvisation, resourcefulness, and, ultimately, the knowledge and confidence to cook by heart.
Lateral Cooking is a practical book, but, like The Flavor Thesaurus, it's also a highly enjoyable read, drawing widely on culinary science, history, ideas from professional kitchens, observations by renowned food writers, and Segnit's personal recollections. Entertaining, opinionated, and inspirational, with a handsome three-color design, Lateral Cooking will have you torn between donning your apron and settling back in a comfortable chair.
Praise for Lateral Cooking: One Dish Leads to Another
"Pure, informative delight . . . Segnit not only covers continents but also makes deft, slyly humorous work of connecting their dishes. Each chapter, or 'continuum,' offers basic recipes for starting points, followed by a 'leeway' section for adaptations and 'flavors and variations' to spark creativity . . . Segnit effortlessly glides readers up and over her culinary Everest. They descend as confident, improvisational cooks, with a base knowledge of the relationship between dishes that allows them to adapt recipes from other books, make bread from memory and let the ingredients lead. 'It's a question of confidence, ultimately,' she writes. 'Nail the daily loaf and brioche feels like less of a challenge.' Even if nailing the daily loaf isn't at the top of your list of 2020 resolutions, reading the work of this culinary powerhouse most certainly should be." - New York Times Book Review
"Food writer Segnit (The Flavor Thesaurus) brings a vast breadth of knowledge to this massive and quietly playful exploration of the art and science of cooking . . . Her mission is to present intuitive cooking as a learnable skill, one that can be developed through an understanding of how certain foods relate to each other in terms of how they are prepared . . . This extraordinary cookbook provides a treasure map full of both straightforward satisfactions and rewarding detours." —starred review, Publishers Weekly
"It is hard to convey just what a staggering achievement Lateral Cooking is . . . Despite its encyclopedic reach, it is conversational in tone and beautifully written. I can lose myself in it any time, from any page, and you could cook from it over a whole lifetime, and still be learning." —Nigella Lawson
"This book shares the same spirit of learning rules and formulas in order to branch out and make your own meals-but there are indeed recipes here too; in fact, with simple tweaks, one morphs into another (flatbread becomes crackers or scones with only minor changes, for instance). It's a natural companion to Segnit's previous book, 'The Flavor Thesaurus,' and a solid foundation for anyone to stand on in the kitchen." —Chowhound, "Best New Cookbooks for Fall 2019"
"A delightful resource… Anyone looking to feel generally inspired by the concept of cooking while giving oneself a rest from the usual format of recipe and photo should check it out." - Alison Roman, T: NEW YORK TIMES STYLE MAGAZINE
"For creative cooks serious about developing their own recipes, look no further . . . a practical handbook that reads like a novel, and gets the creative juices flowing on every page — no photos required. 'Cooking sideways' is its premise, with each chapter showing how a fundamental recipe, such as unleavened bread, can lead you to master biscuits, then croissants, and on and on." - Atlanta Journal Constitution
"A revelatory approach to cooking techniques . . . Segnit is a witty and experienced writer." - Library Journal, starred review
"Perfect for fans of Salt Fat Acid Heat." - Samin Nosrat (via Instagram)
"[Lateral Cooking] uncovers the very syntax of cookery . . . [Segnit] know[s] how to write whimsically, cleverly, confidently and yet modestly; know[s] how to cook; know[s] how to inform and not bore; know[s] how to entertain and tickle; know[s] how to enchant and enrapture the imagination." —Yotam Ottolenghi, in the foreword
"[Segnit] shows, more effectively than any other cookery writer to date, how one thing in the kitchen
leads to another . . . In the end, the cookbooks that teach you the most are the rare ones, experimental or not, that are so well written that you find yourself reading them greedily on a perpetual loop. Lateral Cooking is one of them." —Times Literary Supplement
"A fabulous read." —The Times (UK)
"Masterful . . . In a year that's been a bonanza for cookbooks, this is the one I'd put top of my list . . . Lateral Cooking is well-researched . . . well-constructed and written by someone who clearly loves words, books and language. What book--let alone cookbook--effortlessly weaves in stories of Moby Dick, Sylvia Plath and Henry David Thoreau into its pages?" —The Independent
"Segnit is a brilliantly clever cook who sometimes seems to have eaten every great dish in the world, but the real joy is her exuberant voice, which feels like listening to a witty friend." —The Sunday Times (UK)
"Never boring, always illuminating, Segnit calls her approach 'learning to cook sideways.' If you can make soda bread, then try biscuits. Once you've mastered biscuits, go on to cobblers, then yeast bread, and brioche is just around the corner" - MarthaStewart.com